U.K. House Prices Jump in April in Rebound From a Weak March
(Bloomberg) -- U.K. house prices bounced back in April after a dip the previous month, mortgage lender Halifax said.
Prices gained 1.1 percent from March to an average of 236,619 pounds ($309,000), Halifax said. From a year ago, values rose 5 percent, though growth at this time in 2018 was particularly weak.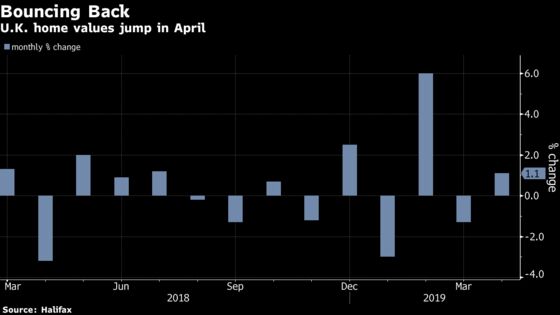 The U.K. property market has been stagnant as uncertainty over Brexit and the economic outlook discourage both buyers and sellers. Still, a shortage of homes, record employment and low interest rates are underpinning prices. Halifax said the average annual price gain has been 4.3 percent for the past decade.
"Demand and supply of housing remained subdued for another month" said Russell Galley, managing director at Halifax. "The index has seen a weaker pace of growth over the last three years."