U.K. House Prices Hit Record £270,000 After 8.1% Surge in a Year
A shortage of homes for sale and a buoyant labor market are expected to underpin the U.K. housing market as consumers come under pressure from soaring inflation and higher interest rates, according to Halifax. 

The average cost of a home rose 0.9% in October to a record 270,027 pounds ($365,000), the mortgage lender said Friday. That left values 8.1% higher than a year earlier, the fastest annual gain since June.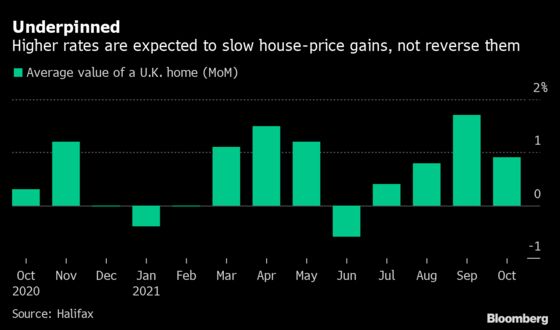 Demand for property remained buoyant last month, despite the ending of a temporary tax cut on purchases introduced by the government last year. That suggests other factors are playing a significant role, including strong employment and a pandemic-driven search for larger homes away from urban centers.
Halifax cautioned that the market is set to lose some momentum, however, as households grapple with a sharp squeeze on living standards.
"With the Bank of England expected to react to building inflation risks by raising rates as soon as next month, and further such rises predicted over the next 12 months, we do expect house buying demand to cool in the months ahead as borrowing costs increase," said Russell Galley, managing director at Halifax. "That said, borrowing costs will still be low by historical standards, and raising a deposit is likely to remain the primary obstacle for many. The impact on property prices may also be tempered by the continued limited supply of properties available on the  market."
The central bank warned on Thursday that inflation is set to reach 5% next April and that interest rates will have to rise in coming months, piling pressure on family budgets. Some lenders have already increased mortgage costs. 
House-price inflation for first time buyers has reached a five-month high of 9.2%, overtaking the equivalent measure for homeowners, Halifax said.