U.K. House Prices Gain Most Since 2016 as Tax Cut Fuels Boom
(Bloomberg) -- U.K. house prices rose by the most in four years in August as buyers rushed to take advantage of a tax cut that is helping to bolster a post-lockdown spurt in property transactions.
Average house prices rose 1.6% from July to a record average of 245,747 pounds ($325,000), mortgage lender Halifax said Monday. From a year earlier, prices gained 5.2%, the strongest since 2016.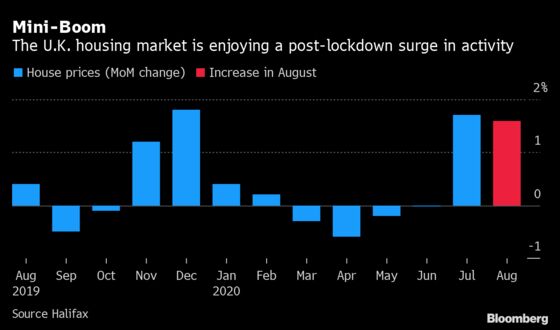 It's just latest indicator of a mini boom in the market after it was shut down during Covid-19 restrictions earlier this year. Property website Rightmove last week said the value of agreed sales jumped to the highest in a decade in July and Bank of England data showed mortgage approvals rising.
One-in-seven homes are selling in just a week, with the number more than doubling from a year ago, Rightmove said. Three bedroom, semi-detached and four bedroom detached houses are seeing the greatest demand, while properties in London are taking the longest to sell.
The housing market's emergence from the coronavirus doldrums has been given extra fuel from Chancellor of the Exchequer Rishi Sunak's decision to temporarily waive the tax on the first 500,000 pounds of any property purchase. The outlook remains uncertain, though, as the economic hit continues to take hold and joblessness expected to surge.
"It remains highly unlikely that this level of price inflation will be sustained," said Russell Galley, managing director at Halifax. "With most economic commentators believing that unemployment will continue to rise, we do expect greater downward pressure on house prices."