U.K. Home Prices Grow at Slowest Pace in 5 Years as Brexit Looms
(Bloomberg) -- U.K. house prices grew at their weakest pace in five years in August as Britain's impending exit from the European Union discouraged buyers.
The average price for a property was 232,797 pounds ($306,000), the Office for National Statistics said on Wednesday. That's just 3.2 percent higher compared to a year earlier and the smallest increase since August 2013. Prices in London fell 0.2 percent after stagnating for six months.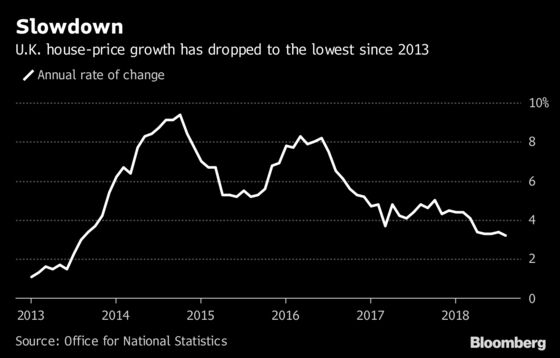 The property market in the U.K., and especially in the capital, has weakened in recent years as pay growth failed to keep pace with rising paces, pushing home ownership beyond reach for many. As Prime Minister Theresa May struggles to strike a deal before Britain's formal divorce date with the EU, sentiment has further deteriorated as buyers wait for clarity on the future relationship with Britain's biggest trade partner.
The market will remain "lackluster" over the coming months, with poor performance in London and Southeast dragging down overall numbers, the EY Item Club said. It expects house prices to rise just about 2.5 percent this year and next as fundamentals for buyers remain challenging and the Bank of England raising interest rates.