U.K. Government Repeats Bulb Energy Mistake by Failing to Hedge
(Bloomberg) -- After nationalizing Bulb Energy Ltd., the U.K. government is making the same mistake that helped take down the nation's seventh biggest supplier in the first place: failing to hedge adequately.
The energy firm, currently run by special administrator, isn't buying power and gas in advance to shield its finances from rising prices as Treasury rules won't allow the government to hedge, said people familiar with the matter, who asked not to be named because the details are private. Bulb's employees are also being paid higher salaries as administrator Teneo Inc. seek to retain staff needed to run the firm.
All of that risks ballooning the 1.7-billion-pound ($2.3 billion) bailout bill that will eventually be paid by consumers. Gas prices in the U.K. have surged more than 60% since the government announced it was taking steps to run Bulb. The forced nationalization -- the first since the 2008 banking crisis -- had already been questioned as cheaper options were available.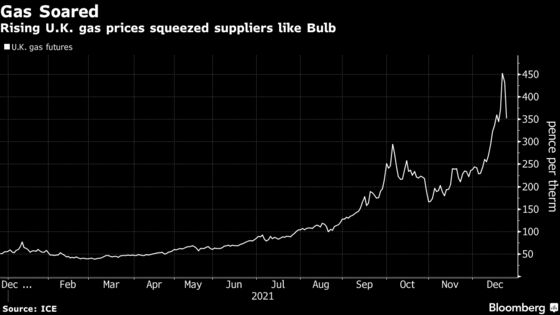 "We're focused on continuing to deliver the best possible service for our members during this period," Bulb said in a statement to Bloomberg News. "In order to do this, we've offered team members who stay with Bulb - excluding our executive team - a payment on top of their normal salary." 
The U.K. energy market is facing a crisis, with 24 firms that supply households having failed since August, forcing millions of customers to switch supplier. As gas prices soared 500% this year, many small providers that weren't hedged couldn't afford to buy energy for their clients.
Bulb, which lacked the large balance sheets and generation capacity of bigger firms, was put into special administration on Nov. 22 after energy regulator Ofgem judged it too large to be absorbed through the normal process, in which a new supplier is appointed to take on the customers of failed rivals. The founder of Ovo Group, the U.K.'s second-largest supplier, cast doubt on the nationalization process.
Energy providers that absorbed customers from smaller companies have already been granted 1.8 billion pounds by Ofgem to cover initial wholesale costs. That will also add to the mounting bills for the government and taxpayers over the coming year.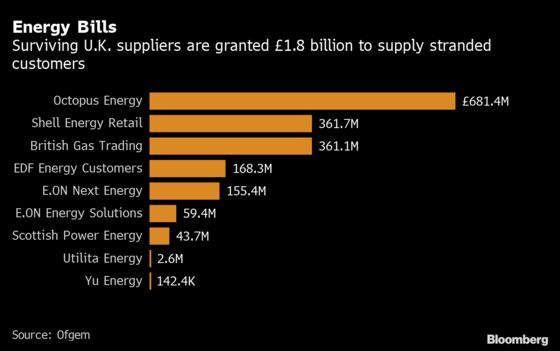 U.K. households are set for an 18-billion-pound increase in energy bills in 2022, according to Investec Plc. The surge in gas prices has left the energy price cap -- the ceiling for what firms can charge most customers -- on course to increase by 56% in April, to an average of 2,000 pounds per household a year, analysts Nathan Piper, Sandra Horsfield and Martin Young wrote in a report.