U.K. Gender Pay Gap Widens, Worst for Workers in 40s
(Bloomberg) -- The gender pay gap in the U.K. widened this year as male earnings rebounded following the hit inflicted by the pandemic. 

Office for National Statistics figures published Tuesday showed that men employed full time earned 7.9% more than women as of April, up from 7% in the same month of 2020.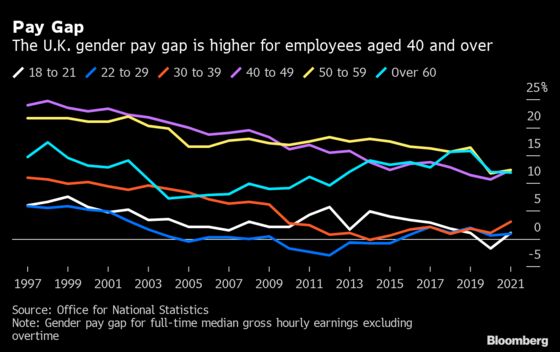 Median weekly pay for full-time employees was 611 pounds ($843), a 4.3% increase from a year earlier. The rise was partly due to wages and hours worked returning to more normal levels.
In April 2020, almost 9 million people were furloughed on reduced pay as a full lockdown to combat the coronavirus caused millions of businesses to suspend trading. 
 
Those who had been worst affected by the pandemic -- younger employees, men and those in lower paid occupations -- saw the biggest gains in earnings, according to the ONS.
 
The recovery in pay for many men caused a widening in the gender pay gap, though the ONS said the figure was in line with the downward trend in recent years. Prior to the pandemic, the gap was around 9%.
At 12%, the gap among full-time employees in their 40s was wider than for those in younger age groups. That trend has persisted for years, reflecting a lower incidence of women moving into higher-paid managerial occupations after the age of 39, the ONS said.