U.K. Funerals Face Coronavirus Challenge With Strained Supply Chains
(Bloomberg) -- Of all the stockpiling that has occurred in Britain during the coronavirus pandemic, perhaps none is as grim as that taking place at funeral homes: They are loading up on cheap coffins.
Parlors with enough storage space have been sourcing the coffins wherever they can, with manufacturers seeming to struggle to cope with demand. There have been delays in receiving orders, and sometimes only a portion of what was purchased has actually turned up, according to funeral organizers. This squeeze on supply is just one of a myriad of challenges they're facing during the crisis.
Although this is one area of the U.K. economy where demand has surged, the funeral homes -- mostly small businesses -- say they aren't exactly thriving. Social-distancing rules have forced them to slim down services and cut out the personal touches that fuel their profits, while they're having to spend more on things like masks. Many are now seeking government aid while the industry remains the target of an antitrust investigation begun in 2018 into alleged price inflation.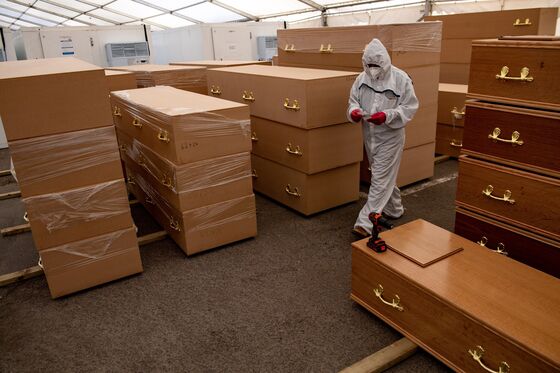 Funeral homes "have seen their world change dramatically around them in a matter of weeks," said Jon Levett, chief executive officer of the U.K.'s National Association of Funeral Directors. "They are working harder than ever, and many costs have increased, particularly on staffing and supplies, yet their income has dropped."
Total deaths throughout April have been much higher than normal in England and Wales, according to figures released by the Office for National Statistics. Overall 22,351 died in the third week of April, more than double the five-year average and the highest weekly total since comparable figures started being recorded in 1993.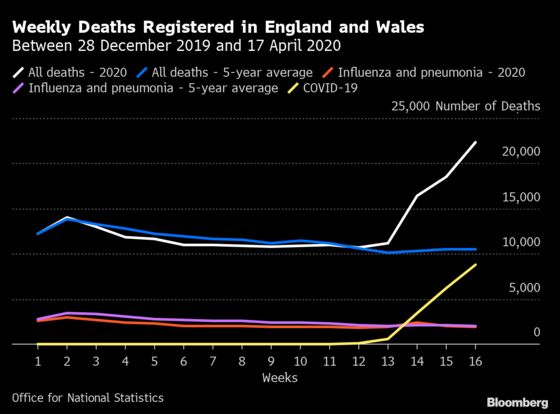 But for funeral homes, more work hasn't translated into increased revenue.
During Britain's lockdown, the government has restricted the number of mourners at graveside funerals to members of the household of the deceased, immediate family members or close friends in lieu of family, with the size of the venue determining the total number. Funeral staff and a celebrant can also attend, and everyone must socially distance. However, the advice can be left to interpretation by each local authority, and at least three in England -- Leeds, Bradford and Kirklees -- have banned all mourners at crematoria and limited the number at graveside burials.
More people are struggling to pay for funerals during the pandemic as well because of strains on household incomes and reliance on government support, leading to uncertainty over how and when funerals will be paid for, according to the NAFD. It's prompting families to choose simple funerals and less expensive coffin models to cut costs. Many are also foregoing optional extras such as flowers, memorial videos, dove or balloon releases, catering, choirs and limousines to transport the family.
There has also been an increase in families choosing so-called direct cremations, which involve no service at all. These cost about 1,600 pounds ($2,000) on average, about a third of the price of a burial, according to SunLife's most recent Cost of Dying Report.
Alun Tucker, chief executive officer of the Funeral Furnishing Manufacturers' Association, said the main reason for the backlog of coffins was that they are usually made to order, and manufacturers are currently working to maximum capacity. The FFMA is encouraging funeral homes to share coffins with rivals if possible.
"There is no concern that we will run out of coffins, but it is a case of the coffins being in the right place at the right time," he said.
All of this could have a significant impact on an industry where about 70% of the operators are small businesses, often with only one branch, according to a 2019 market study by Britain's antitrust regulator, the Competition and Markets Authority. Dignity Plc, Co-op Funeralcare and Funeral Partners Ltd., the three biggest operators, control close to 30% of the market.
Britain's funeral industry has been the source of considerable criticism in the past three years over allegations of price gouging and a lack of transparency, which has made funerals too costly for many. The findings of a CMA probe into the matter are due to be made public later this year.
In the meantime, the increased volume of lower-cost funerals combined with rising costs means many funeral homes won't survive without government help, according to Steve Murrells, chief executive officer of Co-operative Group Ltd., whose funeral division is the largest provider in the country.
Co-op is in discussions with the government about what support the industry may need to continue operating while social-distancing is in place, spokeswoman Lauren Pogson said in an emailed statement.
The coronavirus pandemic is also taking an emotional toll on funeral home staff across the industry, according to Ian Strang, founder of Beyond, a funeral planning business based in London that offers a direct cremation service nationwide. Being able to comfort family members has always been a big part of their job, and now they're less able to do that, he said.
"Funeral directors are losing out financially and emotionally, and the impression of the public is, well they must be raking it in during this time," Strang said. "It is unfair, but then many funeral directors have been unfair in their pricing in the past too."