A Price War Is Set to Hit the U.K. Funeral Sector
(Bloomberg) -- Shares of the U.K.'s largest publicly-traded funeral firm, Dignity Plc, dropped as much as 18 percent as the competition watchdog warned that recent tariff reductions by British undertakers haven't been enough to tackle years of hikes in the industry.
Price increases over the past decade, particularly by larger chains, can't be justified by higher costs or quality improvements, the Competition & Markets Authority said Thursday, while proposing a major probe into the industry by an independent CMA panel.
Dignity's latest stock decline extended its year-to-date drop to about 54 percent. It plunged in January as news of a price war in the sector emerged. The Sutton Coldfield, England-based company reported a slump in quarterly profit earlier this month amid huge price reductions aimed at fending off the threat of its biggest rival, Co-Operative Funerals Ltd., as well as smaller market entrants.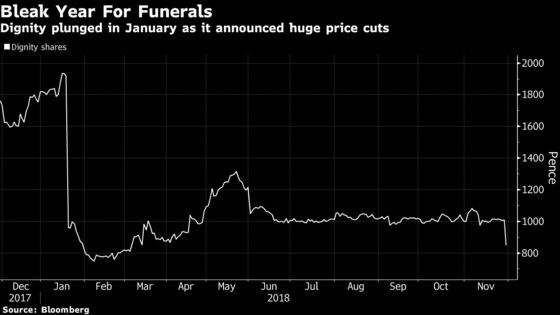 "Dignity has voluntarily been making changes to its business for some time and will continue to review its operations to ensure that we address the CMA's concerns," Chief Executive Officer Mike McCollum said in a statement.
Co-Operative Group said it's been reducing prices on its most affordable funerals over the past three years, while also introducing new options for customers.
"We recognize that there is still more to do and we welcome any measures from the CMA that will protect families and ensure that they have access to high standards of funeral care at an affordable price," Deputy CEO Pippa Wicks said in emailed comments.
Organizing a funeral can now cost those with the lowest incomes nearly 40 percent of their annual outlays, the CMA said in a statement, noting that's more than they spend on food, clothing and energy combined.
"People mourning the loss of a loved one are extremely vulnerable and at risk of being exploited," the watchdog's CEO Andrea Coscelli said. "We need to make sure that they are protected at such an emotional time."
Dignity has previously noted that the bereaved are now more likely to shop around online for funeral services. But Ian Strang, co-founder of funeral comparison site Beyond, said only 4 percent of U.K. consumers do so while there remains a taboo around seeking to minimize the cost of a death.
Peel Hunt analyst Charles Hall noted that the CMA also brought cremations into the discussion on Thursday, citing a limited choice available as well as price growth. This is a new risk for the sector, as cremations haven't yet faced the same price competition that's hit burials, he said, while cutting his recommendation on Dignity to sell from hold.
Dignity was down 16 percent to 846 pence at 10:24 a.m. in London, giving the company a market value of about 416 million pounds ($531 million).