U.K. Faces Biggest Budget Deficit in Peacetime History
(Bloomberg) -- Britain could see its budget deficit soar to a peacetime record this year as the coronavirus lockdown hammers the economy, according to the country's fiscal watchdog.
Borrowing, which was forecast to be 55 billion pounds ($69 billion), could now hit 322 billion pounds, the Office for Budget Responsibility said Tuesday. That's the equivalent of over 16% of GDP, the highest for any year since World War II. Debt remains above 100% of GDP for the next five years.
The projections are based on a central scenario, meaning the deficit and debt could be higher if the economy performs worse than expected.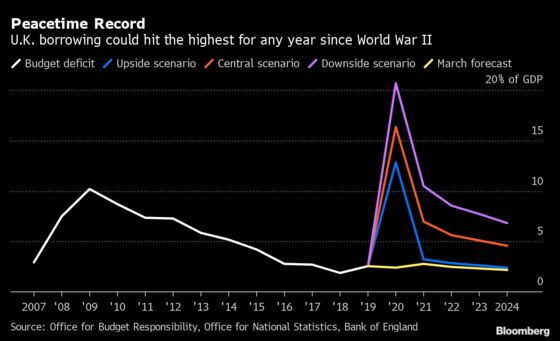 Crucially, the estimates don't include the impact of measures announced by Chancellor of the Exchequer Rishi Sunak last week. The OBR puts the stimulus and extra spending on public services at around 50 billion pounds, which would take the deficit to 372 billion pounds, Chairman Robert Chote said in an online presentation. A downside scenario would see borrowing top 440 billion pounds on the same basis.
The OBR sees the economy contracting by more than 10% in all three of the scenarios it published, the most in three centuries. In the worse-case, output falls by over 14%.
Unemployment is expected to peak at 11.9% at the end of the year and, under the worst scenario, could reach as high as 13.2% early in 2021, the OBR said.
The watchdog no longer thinks the economy will make a rapid recovery next year, as it forecast in April. Instead, its central projection sees the economy growing 8.7% next year following a 12.4% contraction in 2020, implying a degree of permanent scarring from the lockdown.
Output is expected to regain its pre-virus peak by the end of 2022, with GDP 3% lower in the first quarter of 2025 than forecast in March. The downside scenario sees the economy remaining below peak until the third quarter of 2024, leaving it 6% smaller than previously estimated.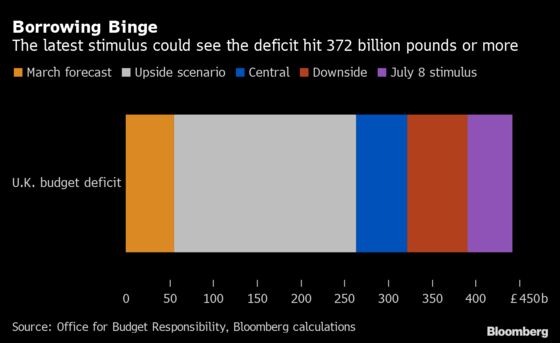 In a separate document, the OBR raised its estimate of the cost of direct government support for the economy to 192 billion pounds, in line with Treasury figures published last week.
Chote said governments would find it hard to finance their deficits if debt was allowed to continue on its "explosive" path. Under the central scenario, a fiscal tightening equal to 2.9% of GDP, or over 60 billion pounds today, would be needed "each and every decade" to bring back debt to a more sustainable 75% of GDP by 2070, Chote said.