U.K., Europe Funding Gap Widens to Most in 15 Months on BOE Bets
(Bloomberg) -- Short-term funding costs in the U.K are diverging from those in Europe as traders grow increasingly confident the Bank of England will deliver an interest-rate hike within the next year.
That's far sooner than any tightening priced in for the European Central Bank, driving the spread between 12-month sterling Libor and Euribor rates to 73 basis points last week, the widest in 15 months.
The positioning reflects the BOE's hawkish tilt last month, when it signaled that concerns over inflation are strong enough to warrant some "modest tightening" over the medium term, a shift from a previous pledge to keep policy loose.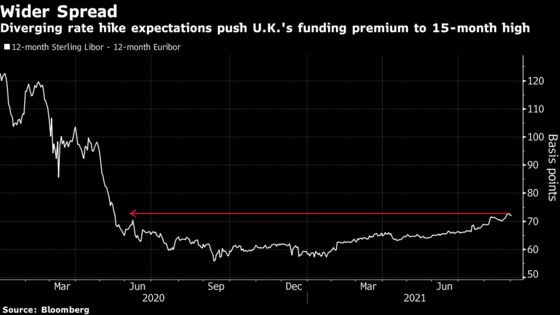 "It's the rate expectations," said Bob Stoutjesdik, a fund manager at Robeco Institutional Asset Management. The market "discounts some liftoff in rates by the BOE in those time frames. In the euro, that is not really the case."
Money-market traders now see the first 15-basis-point rate increase in the U.K. in May 2022. Meanwhile, the they're pricing one basis point of easing from the ECB in a year's time, with forward Eonia swaps only discounting a 10-basis-point rate hike in 2024. 
To be sure, the BOE's new approach to removing stimulus will likely put a cap on the spread, which remains well below its pre-pandemic range. Officials will start to unwind their quantitative-easing program when the interest rate reaches 0.5%, pushing back expectations for further hikes beyond that. 
Read More:
HSBC's Russell Says BOE's 'Great Uncertainty' Is Being Ignored
Gilt Yield Curve Yet to Reflect BOE Sequencing: Liquidity Watch