U.K. Energy Supplier Ovo to Cut 1,700 Jobs as Crisis Bites
(Bloomberg) -- Ovo Energy Ltd., the U.K. energy supplier that sparked outrage by suggesting customers keep warm this winter by eating ginger and cuddling pets, is set to announce that it will lose about a quarter of its workforce as it tries to cut costs amid one the biggest crises to hit the market in history.
Ovo could lose about 1,700 out of its 6,200 roles, according to a person familiar with the situation. Sky News first reported the cutbacks.
Surging gas and power prices have sent 24 household domestic energy suppliers out of business since August. Ovo bought the retail business of SSE Plc with 3.5 million accounts, a deal that completed two years ago. The process to transfer the customers has been going on ever since.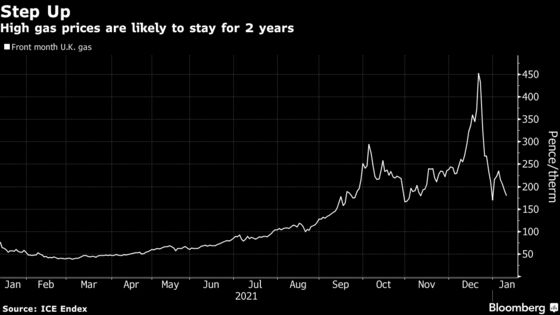 Higher wholesale costs are starting to feed into domestic bills, driving up inflation and threatening to cause a cost of living crisis. The government is in talks with energy companies to try to soften the blow for households already contending with the rising cost of everything from food to fuel.
Ovo was forced to apologize earlier this week after it published an online guide to keeping warm without cranking up the heating. It recommended tactics like eating ginger as U.K. households face a 18 billion pound ($24 billion) spike in their energy bills in April following a surge in the cost of gas.
The crisis isn't going away. Prices could stay high for two years, according to Chris O'Shea, chief executive officer of Britain's biggest energy supplier, Centrica Plc.