U.K. Economic Confidence Slides as Britain Heads for EU Divorce
(Bloomberg) -- Economic confidence in the U.K. is weakening faster than in any other European Union country as Brexit fears pushed sentiment to a 5 1/2-year low.
A European Commission index assessing the mood of British households and businesses slid to the lowest level since the sovereign-debt crisis this month. While sentiment across the region has been damped by a barrage of downbeat economic data in recent months, Britons are bracing for the possibility of a no-deal divorce from the EU that officials have warned will hit growth significantly.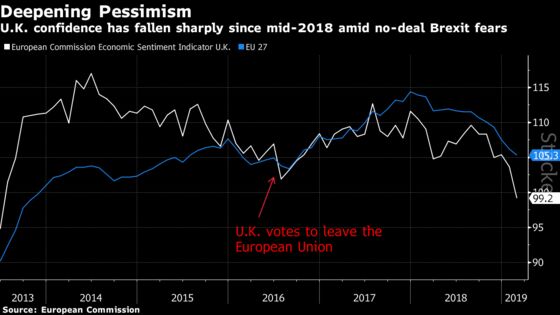 With just 30 days left before Britain is due to leave and no agreement in place, Prime Minister Theresa May on Tuesday bought herself time by offering Parliament a vote to delay Brexit if a deal can't be reached in the coming weeks. The pound rallied but analysts said the move merely postpones the risk of a chaotic departure.
GfK's monthly consumer-confidence survey for the U.K. is due to be published Thursday, with economists predicting the worst reading since the middle of 2013.