U.K. Debt Issuance to Smash Financial Crisis Record, Says Citi
(Bloomberg) -- If U.K. debt issuance is anything to go by, this economic crisis is likely to be far worse than the last.
Britain's Debt Management Office will have to raise sales of government bonds to 285 billion pounds ($352 billion), according to Citigroup Inc. That's over 50 billion pounds more than during the great financial crisis.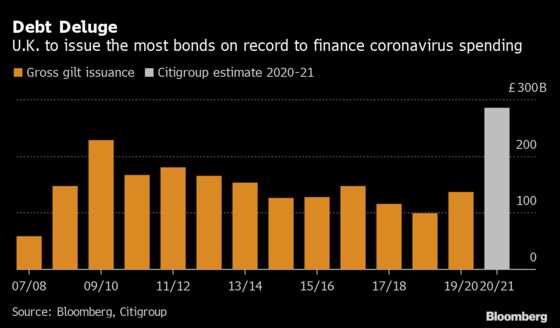 Still, gilts have been gaining as investors bet the Bank of England's quantitative-easing program will soak up the excess.
"Gilt issuance of this magnitude should be a scary proposition for the market, but the BOE has taken away the market impact," wrote Jamie Searle, a strategist at Citigroup, in a note to clients. "Supply and QE is in perfect harmony."
The splurge in fiscal spending comes as the coronavirus addles the U.K. economy, with the bulk of the population being advised to stay indoors and non-essential shops told to close. Fitch Ratings forecasts a 3.9% contraction this year, while almost one million Britons applied for welfare payments in the space of two weeks.
Investors are still treating gilts as a haven, with benchmark yields having fallen twice as much this year as for Germany's bunds. Ten-year gilt yields slipped two basis points to 0.31% Friday, about 20 basis points above an all-time low hit last month.
This week, the DMO announced a doubling of its debt sales estimate for April, to 45 billion pounds. The institution is set to announce a revision to its yearly plans on April 23.