U.K. Current-Account Deficit Widens Ahead of Brexit
(Bloomberg) -- The U.K. current-account deficit widened more than economists forecast in the second quarter, raising fresh questions about the sustainability of the shortfall as Britain prepares for Brexit.
The gap between money leaving the U.K. and money coming in stood at 20.3 billion pounds ($26.5 billion) between April and June, the equivalent of 3.9 percent of gross domestic product. A shortfall of 19.4 billion pounds was forecast by economists in a Bloomberg survey.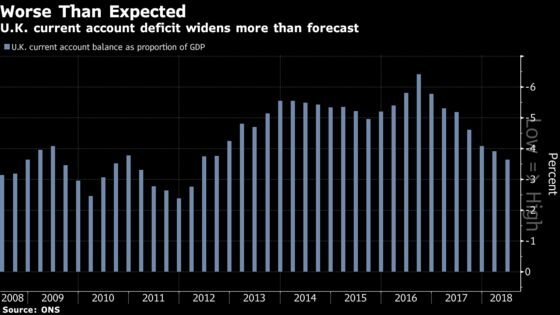 The Office for National Statistics left its estimate of GDP growth in the period at 0.4 percent, but business investment fell for a second straight quarter and inflation-pressured households once again spent more than they earned. Growth in the first quarter was revised back down to 0.1 percent, the weakest since the end of 2012.
The pound weakened following the figures and was at $1.3059 as of 9:43 a.m. London time, down 0.2 percent on the day.
Brexit has put the current account back in the spotlight, with economists questioning the willingness of foreign investors to keep financing the deficit by buying British assets after Britain exits the European Union.
Britain had the highest deficit among Group of Seven countries last year and officials see the shortfall narrowing only slightly in coming years, despite the fall in sterling since the 2016 Brexit referendum. Fears were reignited last month when figures showed overseas investors sold a record 17.2 billion pounds amount of gilts in July.
Britain saw a deterioration in both its trade balance, driven by higher imports, and in the gap between what investors earn on their foreign investments and what foreigners earn on their investments in Britain. The overall deficit was up sharply from 15.7 billion pounds, or 3 percent of GDP, in the first quarter.
The widening of trade deficit meant that net trade acted as a drag on growth between April and June. Growth in the second quarter owed much to consumer spending, which grew a respectable 0.4 percent. Business investment fell 0.7 percent instead of the 0.5 percent rise previously estimated. On the output side, upward revisions to manufacturing and the dominant services industry were offset by a downward revision to construction.
"Although it has picked up a little from a slow start to the year, underlying economic growth remains persistently below the long-term average," said Rob Kent-Smith, head of national accounts at the ONS.
Disposable incomes after adjusting for inflation rose by 0.4 percent and households saved 3.9 percent of their incomes, up from 3.6 percent in the first quarter. Households were net borrowers for a seventh quarter.
The summer heatwave saw the economy pick up momentum in July, figures earlier this month showed, and economists predict growth in the third quarter accelerated to as much as 0.6 percent.
That's above what the Bank of England reckons is a sustainable rate and explains why policy makers voted to raise interest rates to their highest level since 2009 in August.
Officials are expected to hold fire until Britain formally leaves the EU on March 29. A hike in May is largely priced in by traders, though bets could shift rapidly if the chances of the U.K. crashing out of the bloc without a deal rise.
That prospect moved a step closer last week after Prime Minister Theresa May's blueprint was bluntly rejected by EU leaders at a summit in Salzburg, Austria.