Want More Responsible Companies? Change the Rules.
(Bloomberg Opinion) -- It's open season on shareholders in U.K. companies. The opposition Labour Party has proposed giving 10 percent of a company's shares to a fund for employees. In response, Bank of England chief economist Andy Haldane reiterated his doubts over the U.K.'s doctrine of "shareholder primacy." The pressure for tilting U.K. company law away from shareholders following the financial crisis is getting stronger, and for good reason.
Company directors have been required since changes to law in 2006 to promote the success of the company for shareholder's benefit. That is qualified by a duty to have simultaneous "regard" for factors including long-term consequences, staff interests, supplier relationships and environment impact.
It's not hard to see why Haldane and others are asking whether this is effective. Britain has a problem with poor productivity, lackluster investment and low public trust in business. Haldane wonders whether companies could be encouraged to retain profits for reinvestment, rather than paying them out as dividends just because equity investors are the "first in the queue."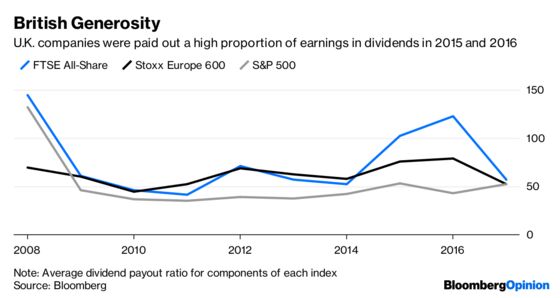 Examples of this aren't hard to find. Construction group Carillion Plc paid out unaffordable dividends to its shareholders and went bust with devastating consequences for staff, customers and creditors.
Income funds, which focus on dividend stocks, seem to wield a high degree of influence over corporate strategy. Oil major Royal Dutch Shell Plc strained every sinew, cutting costs and capital expenditure, to maintain its dividend throughout the slump in energy prices. It will take years to discover whether it under-invested as a result.
GlaxoSmithKline Plc pays a huge dividend relative to its earnings, when it could be cutting debt instead. But a non-committal answer from CEO Emma Walmsley on the dividend smashed the share price last year. U.K. insurers are also high dividend payers and it would be hard for them to cut their payouts to fund an aggressive investment push.
The revised U.K. corporate governance code will next year require firms to describe precisely how they have considered the interests of stakeholders. But if the existing formulation of directors' duties was clear, that nudge wouldn't be needed. Hence Haldane calls for a more "plural" set of purposes beyond running the company for shareholders.
How would this work? The Institute for Public Policy Research, a London-based think tank, wants the legislation simplified so that directors must simply promote "long-term" company success, and have regard for shareholders alongside the existing stakeholder factors. That would a step toward Dutch model of consultative capitalism.
Some will argue that British firms would then suffer increased financing costs, if investors demanded a higher return on their shares to compensate for losing boardroom sway. After all, stocks in the Netherlands are said to suffer a "Dutch discount." That looks unlikely. The U.K. would still lack the mechanisms that protect managers of Dutch companies from hostile bidders and shareholders; and U.K. shareholders would still have the power to expel directors at the annual meeting if they are dissatisfied.
However it is worded, ending legal shareholder primacy would give directors a solid justification to, say, cut the dividend in favor of capex for the sake of a long-term payoff. Such a move may also help restore a bit of trust. And given the law of unintended consequences, it would be logical to start with modernizing Britain's overall corporate framework, before adopting specific remedies like giving equity stakes to staff.
Some cause of short-termism will remain: especially the hypnotic power of the share price and stock-related incentive plans. But that only makes empowering directors to resist such forces even more timely.
This column does not necessarily reflect the opinion of the editorial board or Bloomberg LP and its owners.
Chris Hughes is a Bloomberg Opinion columnist covering deals. He previously worked for Reuters Breakingviews, as well as the Financial Times and the Independent newspaper.