U.K. Company Insolvencies Rise by 6% in First Quarter of 2019
(Bloomberg) -- Go inside the global economy with Stephanie Flanders in her new podcast, Stephanomics. Subscribe via Pocket Cast or iTunes.
The number of companies in England and Wales unable to pay their debts rose in the first quarter, government figures published Tuesday show.
There were 4,187 company insolvencies, 6.3 percent more than in the final three months of 2018, the Insolvency Service said. The figures exclude bulk insolvencies of personal service companies, many of which have been forced to close following a tax-avoidance crackdown.
Corporate insolvencies since the first quarter of 2018 were 11 percent higher than in the previous four quarters, underlining the damage Brexit uncertainty is inflicting on the corporate sector.
Data published by financial adviser Begbies Traynor Group Plc Monday showed that almost half a million companies, around 14 percent of all active firms, are now facing significant distress.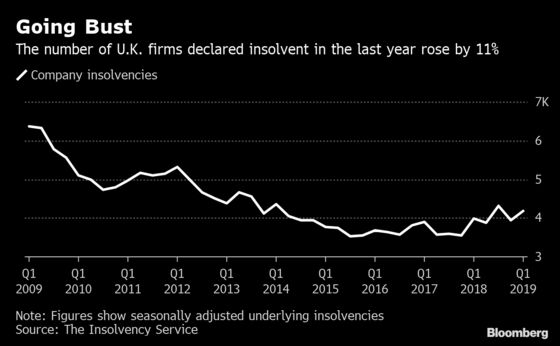 The number of companies entering administration, where an accountancy firm is appointed to help recover money for creditors, rose to a five-year high in the first quarter, the Insolvency Service said. Fewer individuals went bust in the period, but the number was still the second-highest since 2010.