U.K. Businesses Enter New Lockdown With Dwindling Cashflows
(Bloomberg) -- U.K. businesses were suffering even before the latest lockdown, leaving many in a precarious position as they enter new restrictions with what many say is insufficient government support, a survey showed.
The findings from the British Chambers of Commerce add to pressure on Chancellor of the Exchequer Rishi Sunak to extend aid to companies beyond the 9,000-pound ($12,000) one-time grants he's offering. With non-essential shops and hospitality venues closed for weeks after a dismal 2020, a growing number of businesses are headed for a financial abyss.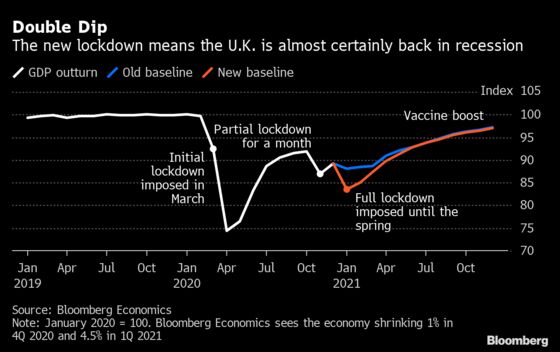 "Cash is the major problem facing companies right now," Adam Marshall, director general of the British Chambers of Commerce, said in a Bloomberg Television interview. "Government has put billions and billions into supporting businesses and employment. You wouldn't want them to fall within sight of the finish."
Four in 10 firms said their cash flow deteriorated in the fourth quarter, according to a survey in November of 6,203 businesses conducted by the lobby group. Almost 80% of hospitality firms reported a drop in sales in the period.
Separately, the U.K. services sector cooled more than expected in December, according to IHS Markit's purchasing managers' index posted Wednesday.
Prime Minister Boris Johnson's government is counting on a mass vaccination program taking root by Easter to allow an easing of the restrictions. The latest measures to support companies add to the 280 billion pounds it has cost the Treasury to tackle the virus and bolster firms and workers through the pandemic.
Sunak has said that level of spending -- and borrowing -- isn't sustainable, drawing the ire of economists who warn failing to spend enough now will damage a slow recovery that's already seen lasting beyond next year. Earlier this week, Sunak said he'd use his budget in March to for longer-term stimulation for the economy.
Kate Nicholls, chief executive officer of the UKHospitality group, said Sunak's aid represents "only a sticking plaster for immediate ills." Mike Cherry, chair of the Federation of Small Businesses, said for many, the grants "won't be enough for businesses who are already under the cosh and on the brink."