U.K. Bonds Slump After BOE Stuns Market by Raising Rates
(Bloomberg) -- Investors scrambled to sell U.K. government bonds and priced in a more aggressive tightening cycle after the Bank of England unexpectedly raised interest rates for the first time in three years.
The yield on 30-year benchmark bonds jumped 10 basis points on Thursday to 1%, the highest level since November. The BOE raised its key rate to 0.25%, setting aside concerns over a surge in coronavirus infections that have clouded the economic outlook.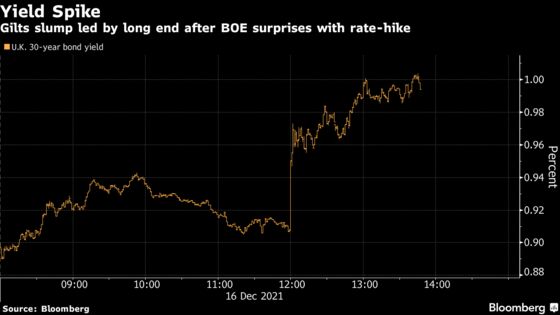 Traders are betting the BOE will raise rates by another 25 basis points to 0.5% by March to tackle the highest inflation in more than a decade. That would allow the BOE to immediately bring an end to its policy of reinvesting its expired QE bond holdings.
The market expects officials will eventually increase the key rate to 1% by August, compared with November previously.