U.K. Bond Yields Set to Test August Low by Year-End, Mizuho Says
The rally in U.K. government bonds following the resignation of Brexit Secretary Dominic Raab will help drive benchmark yields down to levels not seen since August as uncertainty reigns, according to Mizuho International Plc.
Investors will seek safety in sovereign debt as Prime Minister Theresa May comes under fire from all sides over her Brexit plans, with mounting opposition opening up a range of possibilities, including fresh elections and a second European Union referendum. Ten-year gilt yields will head toward 1.2 percent by year-end, said Peter Chatwell, head of European rates strategy at Mizuho.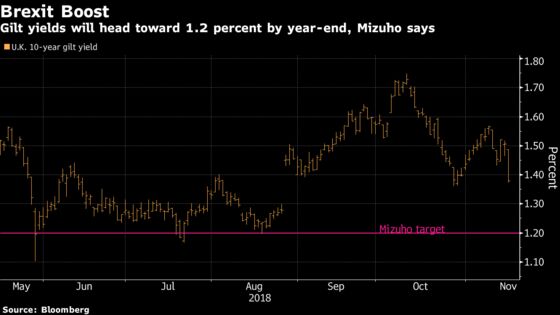 "The rising risk of a General Election or second referendum is now appearing to be coming more clearly priced by the markets," Chatwell said. "For the remainder of the year, we expect to see continued support for long-end gilts."
U.K. 10-year yields dropped 10 basis points to 1.40 percent as of 10:42 a.m. in London, on course for the steepest decline since May 29.
The probability of a new election or a second referendum before May next year is at 60 percent, according to Chatwell. Should either event materialize, gilt yields could reverse their downward tract and climb above 2 percent, a level not seen in three years, he added. That's because those scenarios would likely see U.K.'s future tied more closely to the EU, boosting the economy and paving the way for interest-rate increases from the Bank of England.