U.K. Bond Yield Curve on 'Fire' After May Delays Brexit Vote
(Bloomberg) -- Investors sought the safety of longer-dated U.K. bonds after Prime Minister Theresa May stepped up preparations for no Brexit deal.
The nation's 30-year debt rallied more than shorter maturities, sparking a flattening of the yield curve, after May's delay of a vote on her Brexit deal stoked concern the U.K. may tumble out of the European Union. There's potential for the spread between two- and 10-year yields to invert within six weeks, said Peter Chatwell, the head of European rates strategy at Mizuho International Plc, reflecting the economic risks of no deal.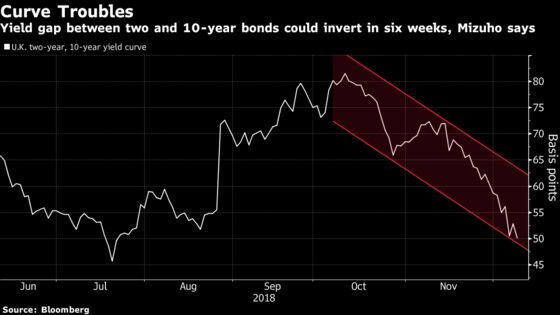 "The yield curve is now on fire," said John Wraith, head of U.K. macro rates at UBS Group AG. "The market clearly believes she will not get anything material enough from the EU to turn that scale of opposition around, so even if the vote is delayed it's going to end in the same way -- with a big defeat for the government."
Thirty-year bond yields fell 17 basis points to 1.66 percent, the most since June 24, 2016, the day after the Brexit referendum. Those on 10-year bonds dropped 10 basis points to 1.16 percent, the lowest level since May.
Traders in money markets are now betting that the next interest-rate increase from the Bank of England will not happen until late 2020. The gap between two- and 10-year bonds narrowed three basis points to 49 basis points, the lowest level since July. That spread has been narrowing in the U.S., where inversions have been a historical indicator on recessions.
"The long end of the gilt curve has staged a massive recovery," said Mizuho's Chatwell. "This was one of the reasons why the U.K. rates curve flattened so aggressively in 2016. We should be mirroring that relationship, and probably extending it given how prolonged this period of uncertainty is likely to be."