Tyson Stumbles in U.S. Chicken Glut as Virus Dims China Outlook
(Bloomberg) -- Tyson Foods Inc. shares dropped after the biggest U.S. meat processor delivered quarterly sales that missed estimates as soft pricing held back the chicken unit.
Grappling with a glut of some products in the U.S. including boneless breast meat and underperforming chicken plants, the Springdale, Arkansas-based company lowered its annual forecast for poultry margins as low prices persist. It announced 500 job cuts as part of a cost-cutting program.
While the current quarter is typically weaker for Tyson, it reported a slower-than-expected start to the year. Chief Executive Officer Noel White said the impact of African swine fever combined with easing trade tensions make for a positive longer-term outlook, although the spread of coronavirus is clouding immediate prospects for Chinese poultry demand.
"The deterioration in their chicken business was worse than the industry and the outlook for that business was more subdued than expected," Heather Jones, founder of Heather Jones Research, wrote. "In addition, they highlighted the fact that coronavirus is negatively impacting the near-term outlook for broiler exports to China."
Tyson shares were down 4.1% at 10:07 a.m. in New York, extending a loss this year as part of a market-wide pullback after surging 70% last year on demand driven by swine fever.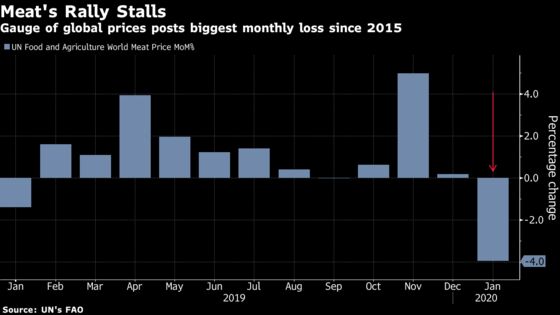 Still, earnings matched expectations thanks to strong beef and pork margins and CEO White said the company "is well-positioned to capitalize on opportunities in the global marketplace." He expects an acceleration of global demand for U.S. pork, beef and chicken.
Asked about the impact of coronavirus in China, White said the company is closely monitoring the situation and assessing what it means for global business. Tyson has restarted some operations in the Asian nation.
Beijing's efforts to minimize the impact of coronavirus have helped fuel a recovery this week after markets tumbled in previous weeks. Still global meat prices fell the most since 2015 in January after Asia's rapid pork imports started to slow.
"As the fallout from ASF continues to unravel itself, we expect China to continue to ramp its imports of protein," Stephens analyst Ben Bienvenu said in report. Tyson is expected to make steady progress throughout the year in improving chicklen operations.
The company should benefit from China lifting a five-year ban on imported U.S. chicken in November, as well as demand for imported pork amid swine fever, according to Bloomberg Intelligence. The prepared foods segment should continue to see strong sales volume trends.