The Pound's Pain May Finally Be Coming to an End
(Bloomberg) -- What the Brexit referendum took away from the pound, a divorce deal may give back.
Aberdeen Standard Investments is betting that sterling could climb to $1.50 -- a level not seen since the 2016 vote -- within three months of a divorce agreement. That would mark a gain of 15 percent from the currency's current level of about $1.31, a feat only seen twice in the past 50 years: the recovery from the 2008 credit crunch and the 1987 global stock crash.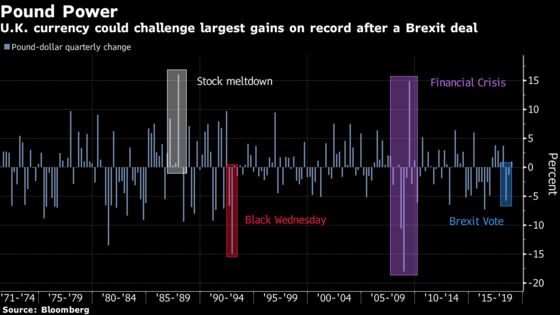 The pound has already gained about 3 percent this month as signs emerge of a potential draft Brexit agreement. A pact with the European Union would see Britain embark on a two-year exit transition and trade talks. For Aberdeen, which manages $736 billion in assets, that would drastically reduce uncertainty and help the pound unwind its Brexit discount.
"A deal would mean the next two years would be under EU-equivalent conditions," said Aberdeen money manager James Athey, who added a long position versus the dollar this week. "It has the potential to trigger the sharpest appreciation in a long time."
Stephen Jen, the chief executive of London-based hedge fund Eurizon SLJ Capital, is even more bullish than Aberdeen, seeing $1.55 as "fair value" for the pound.
It would mark a change in fortunes for the battered currency, taking it back toward its range between the last financial crisis and the Brexit vote. Sterling fell five percent in the week of the Brexit referendum, compared to nearly 10 percent during the week of Black Wednesday in 1992 when the pound exited Europe's Exchange-Rate Mechanism.
The pound has also been buoyed by weakness in the dollar following the U.S. midterm elections. One-week risk reversals, an options gauge of market sentiment, indicate that traders are the least bearish on the pound since June.
U.K. Prime Minister Theresa May has begun briefing her Cabinet on the text of the almost-complete Brexit deal, according to people familiar with the matter. Still, some caution may be warranted given the Irish border and parliamentary approval remain potential stumbling blocks.
A Bloomberg survey of analysts last month saw the pound only recouping about half its losses to $1.40 on a Brexit deal. Some see a rally in two stages, with a second leg-up if U.K. lawmakers sign off on the agreement, which may be no easy feat.
Sterling will rally toward $1.40 on "firm news of a decent Brexit deal," said Shanti Kelemen, a money-manager at Coutts & Co. A move toward $1.50 would need a weaker dollar as well as at least one interest-rate increase from the Bank of England, she said.
"The pound is undervalued at current exchange rates, and a deal with the EU would likely bring a relief rally," said Kelemen, adding Coutts increased its sterling exposure in the wake of the 2016 referendum. "What would really unlock value is that if the Brexit uncertainty is removed and the deal doesn't constrain the economy, you could see the Bank of England raise interest rates."