TV Networks Report Hot Ad Market Despite Falling Viewership
(Bloomberg) -- TV viewership may be down, but the ad dollars are soaring.
The trend has become so pronounced that even some CEOs say it defies logic.
"How does that makes sense?" David Zaslav, chief executive officer of Discovery Inc., asked Tuesday at a Credit Suisse investor conference. "Every month you deliver less tomatoes in the wheelbarrow, and every month you get paid more for your tomatoes."
It comes down to supply and demand -- and demand for airtime is on fire as advertisers jockey to stay in front of eager consumers emerging from the pandemic.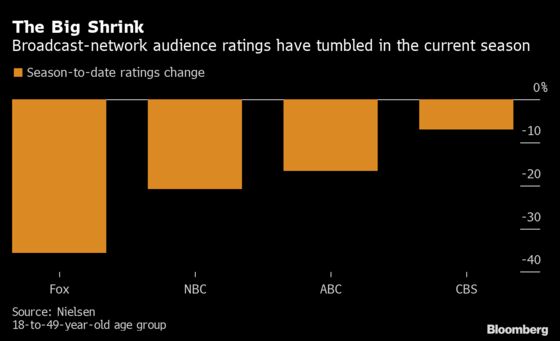 TV viewership has been declining for years as people switch to commercial-free streaming services like Netflix Inc. and Walt Disney Co.'s Disney+. But TV ad dollars have remained relatively steady as marketers continue to view broadcasting as a great way to reach large numbers of consumers. There are new ad-supported streaming outlets, like NBC's Peacock and Discovery's Discovery+, but advertisers find they typically don't have enough viewers to replace TV commercials.
The demand has been particularly strong as media companies book advance commitments for the next TV season. Disney said Monday its sales are rising at a double-digit rate.
"Reach is increasingly difficult to find in the market," Jeff Shell, CEO of Comcast Corp.'s NBCUniversal, said this week at the same investor conference. "And if you have reach, then you have a commodity that's very valuable."
The result is that TV networks are able to charge more for commercial time, even as audiences shrink. Zaslav said the rates Discovery charges advertisers are outpacing the drop in viewership.
"Logically, you'd say that's not sustainable," he said.
Zaslav described the upfronts -- the time each spring when TV networks sell the bulk of their commercials in advance -- as the "best upfront I've ever seen." Shell said that NBC's upfront ad sales have been "on fire" and called it "the strongest upfront I think probably in the history of NBCUniversal."
"As you come out of the pandemic and as lots of companies are trying to advertise," Shell said, there are "not as much rating points to buy in the market. So, you have kind of a classic supply squeeze."