Analyst Sees a Peak for Headset Maker After a Huge Year of Growth
(Bloomberg) -- Turtle Beach Corp. just reported another beat-and-raise quarter. Its reward? A price-target downgrade from Oppenheimer & Co. and the biggest stock tumble since January.
The maker of gaming headsets sank as much as 21 percent after analyst Andrew Uerkwitz lowered his price target to $24 from $35, noting that he expects 2019 sales to show a decline year-over-year "due to the extraordinary growth in 2018." He still rates the stock the equivalent of outperform.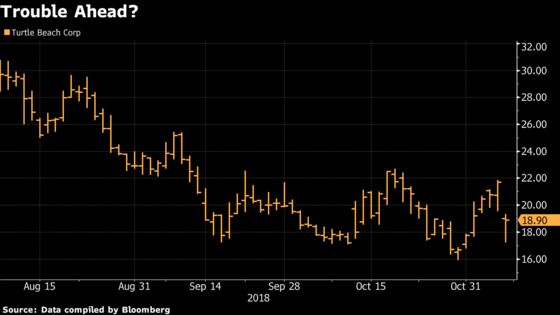 Turtle Beach "continues to maintain a dominant market share and outgrow the console headset market," Uerkwitz wrote. "The impressive market growth driven by Battle Royale games set the stage well" for the company's long-term health.
Shares of Turtle Beach had risen nearly 1,100 percent year-to-date through Tuesday. So even with the drop, they're well above levels from earlier in the year. Still, Wednesday's move took shares as low as $17.23, well below Uerkwitz's reduced $24 price target.