Turks Grabbing Cheaper Dollars Shows Struggle for Lira Recovery
(Bloomberg) -- The reaction to Turkey's interest-rate hike from local investors suggests the lira still faces an uphill struggle.
Companies and households bought up to $2 billion worth of foreign currency following Thursday's central bank decision, according to Istanbul-based currency traders who declined to be named. Those purchases, which capped gains in the lira, signal pent-up demand from local firms that have a net $216 billion of foreign-currency liabilities.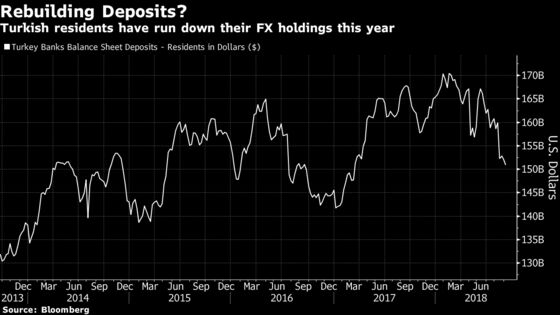 The local foreign-exchange demand will add to a series of headwinds for the lira, which remains nearly 40 percent down against the greenback this year. The dollar purchases came after President Recep Tayyip Erdogan effectively banned Turkish entities from conducting business in dollars or euros on Thursday, a move that may be stoking anxiety among corporates.
Local investors have driven down their foreign-currency deposits this year to about $150 billion as they snapped up cheaper lira. Some analysts say they are now likely to view any bouts of lira strength as an opportunity to rebuild their dollar coffers.
"There has been a trend of erosion in policy making in Turkey," said Inan Demir, a strategist at Nomura International Plc. in London. "Policies -- monetary, fiscal but also foreign policy -- have been adding to the risk premium, not reducing it. It will be difficult to shake these memories off with one hike, even if it is a forceful and orthodox one, so I think it takes more than this to get the lira out of the woods."
While the bigger-than-expected 625-basis-points rate hike may renew confidence in the central bank's credibility, investors in the lira remain concerned about double-digit inflation and worsening relations with the U.S. These risks will keep the currency vulnerable to weakening pressures, according to Credit Agricole SA.
"The likelihood of being disappointed again is high," said Guillaume Tresca, a strategist at Credit Agricole, which sees the lira weakening to 8.30 per dollar by the end of the year.
The currency pushed 0.7 percent higher against the dollar as of 9:37 a.m. on Friday to 6.0378.