Turkish Prices Keep Soaring as Central Bank Looks the Other Way
Turkish inflation probably accelerated for a fifth month in October but surging prices alone won't rule out further interest-rate cuts later this year after the central bank ditched its guidance under pressure from the president.
Data due Wednesday will show inflation rose an annual 20.35%, up from 19.58% in September, according to the median estimate in a Bloomberg survey. All but one of 20 economists predicted an acceleration. Headline prices haven't jumped by more than 20% since January 2019.
If the data tally with the poll, Turkey's benchmark rate adjusted for inflation would drop to negative 4.35% from minus 3.58%, one of the lowest real yields among emerging markets.
"Further acceleration in inflation in October will serve as a reminder that the central bank has made a policy mistake" by cutting rates, said Piotr Matys, a senior currency analyst at InTouch Capital in London. "It's too early to mark the 9.85 high set on October 25 as a major top" in the lira's exchange rate against the dollar.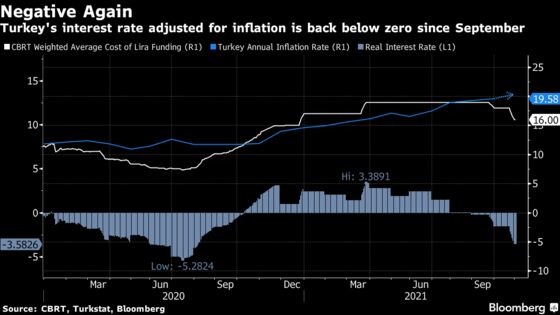 Until early September, central bank Governor Sahap Kavcioglu had promised to keep the benchmark interest rate above expected and realized inflation. 
He shifted position as price gains soared and President Recep Tayyip Erdogan demanded lower borrowing costs, first focusing on a narrower set of core prices that stripped out volatile food and energy. The bank then dropped all forward guidance, promising inflation would prove "transitory" as the economy emerged from Covid restrictions.
Turkey cut its benchmark rate by 200 basis points to 16% last month, double what markets expected. It hinted that further reductions might follow this year, while noting there was limited room for cuts.
Erdogan, who lost support as the economy slumped during the pandemic, champions the unconventional hypothesis that lower rates will slow inflation. 
The bank raised its inflation projections for end-2021 to 18.4%, from a previous 14.1%. Reaching a permanent current-account surplus will result in price stability, Kavcioglu said as he unveiled the latest report.
Two consecutive surprise rate cuts have carried the lira's year-to-date depreciation against the dollar to more than 20%, the worst among all major currencies tracked by Bloomberg.
"At the time when inflation is four times above the official target, lowering rates is counterproductive as it weakens the lira and fuels inflationary pressures," Matys said.