Turkish Lira Tumbles as Volatility Returns After Holiday Week
(Bloomberg) -- The lira slid on Monday with volatility rebounding, ending a week of relative calm as Turkey's markets opened after public holidays.
The dollar surged as much as 4.9 percent against the lira to 6.2974, with the Turkish currency extending losses as the U.S. trading day got underway. One-month implied lira volatility, a gauge of expected swings in the currency, jumped to exceed 40 percent after dropping during holidays last week.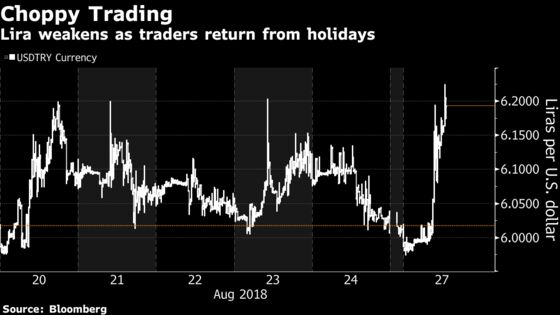 "The lack of announcements of reforms or changes in economic policy during the Eid al-Fitr has left markets to expect business as usual," said Per Hammarlund, chief EM strategist at SEB in Stockholm. "Right now, that means expansionary fiscal policy, high inflation, a continued excessive external financing need, and, ultimately, a weaker lira."
The lira has been battered in the past month as the U.S. started imposing sanctions on two Turkish ministers amid a spat over a detained American pastor, adding to investor concerns over the country's economic and monetary policies. Turkey's President Recep Tayyip Erdogan has called the turmoil an "economic war" waged by Washington.
Investor sentiment has been hurt by double-digit inflation, a deepening current-account deficit and policy makers' reluctance to raise interest rates. While Turkey has raised rates by 500 basis points since April, it needs to boost them further by more than 600 basis points to stabilize markets, according to Societe Generale SA.
For the lira to stabilize, it needs credible policy action to fight inflation and reduce external imbalances, Hammarlund said. "Also, the longer it takes to release U.S. Pastor Andrew Brunson, the more likely are additional sanctions by the Trump administration, and that is also weighing on the lira."
Brunson's lawyer Ismail Cem Halavurt said, speaking to Bloomberg by phone, that he will apply to Turkey's Constitutional Court for his client's release.
JPMorgan Chase & Co. has revised its forecast for Turkey's growth next year to 1.1 percent from 2.8 percent, citing "worsening financial conditions and tighter liquidity conditions," economist Yarkin Cebeci wrote in a report. "Coordinated policy action by the policy makers could put Turkey on a soft landing path where rebalancing is achieved with manageable collateral damage."
Turkey's 10-year bond yield slipped five basis points Monday to 21.95 percent, after touching a record high of 22.69 percent earlier this month.