Turkey Central Bank Resumes Interventions to Stem Lira Rout
(Bloomberg) -- The Turkish central bank intervened on the currency market for the second time this week to slow a depreciation that's wiped out almost half the lira's value this year.
The central bank said it stepped in because of "unhealthy" price formations. The bank sold around $200 million on Friday, according to two people familiar with the matter.
The lira jumped as much as 2.1% against the U.S. dollar after the statement, before giving up those gains to edge back toward a record low.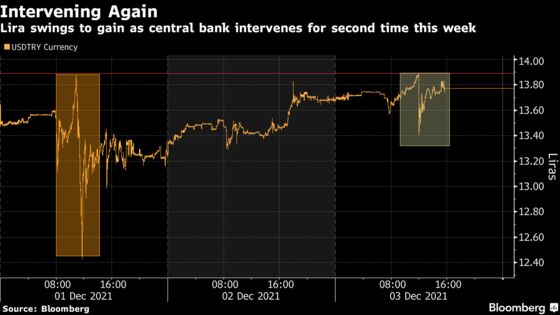 The move comes after data earlier showed consumer inflation accelerated to over 21% in November, reaching the fastest pace in three years -- more than four times the official target. That added to concerns President Recep Tayyip Erdogan's determination to drive down borrowing costs will undermine the currency. 
"Interventions when the lira is weakening is like putting your finger in a leaking levee," said Per Hammarlund, chief emerging-markets strategist at Skandinaviska Enskilda Banken AB. "The effect of intervention is only temporary without a change in monetary policy."
The lira's depreciation underscores what little confidence investors have left in the nation's policy makers. Egged on by Erdogan, the central bank has slashed borrowing costs by 400 basis points to 15% since September.
The mood darkened further on Thursday after Erdogan replaced the nation's finance minister, Lutfi Elvan, with Nureddin Nebati, a deputy minister and vocal supporter of the president's policy of lower borrowing costs. 
The central bank intervened directly on the foreign-exchange market for the first time in seven years on Wednesday. The bank's firepower has been eroded by veiled currency sales orchestrated through state lenders during previous bouts of market stress. 
Turkey's net currency reserves stand at $23.9 billion, and liabilities including swaps at $60.7 billion, leaving the balance at minus $36.8 billion, according to Bloomberg calculations. Gross reserves fell to $126.4 billion in the week through Nov. 26.
The lira is down more than 45% against the dollar this year, by far the biggest depreciation in emerging markets. It was trading 0.6% weaker at 13.7687 per U.S. dollar as of 4:51 p.m. in Istanbul.