Turkey's Defense Line Fails as Lira Slips Past 6 Per Dollar
(Bloomberg) -- The Turkish lira weakened past the 6-per-dollar mark for the first time since late May, breaking through a key level that state banks have been defending.
The currency slipped as much as 1% to 6.0482 on Friday, with losses accelerating after a better-than-expected U.S. jobs report lifted the greenback against its major peers. The move comes despite domestic efforts to prop up the lira. State lenders sold more than $4 billion this week, with the scale of the intervention picking up dramatically late Friday, according to four traders with knowledge of the matter.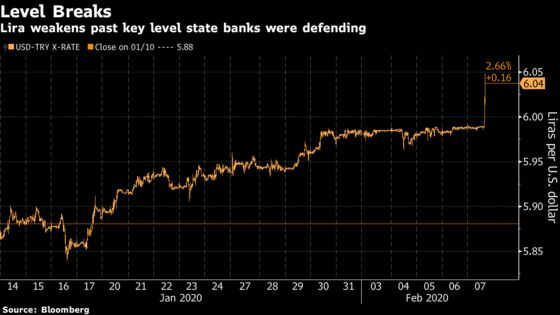 The interventions have helped the currency buck a rout spreading across emerging-markets. The lira has traded within a percent of the psychologically important level against the dollar all week, despite concern about the global economic impact of the coronavirus.
But the defense appeared to have reached its limits in late trading, with the currency briefly buckling as it tripped past 6 against the dollar. It pared some of its decline and was trading at 6.0222 per dollar as of 6:55 p.m. in Istanbul.
Last week, S&P Global Ratings classified Turkey's foreign-currency regime as a "managed float," citing interventions by state banks and limits introduced by regulators on local banks' derivative positions with non-residents, designed to stand in the way of short sellers.