Turkish Lira Cedes Gains From Rate Euphoria Amid Dollar Binge
(Bloomberg) -- The Turkish lira fell for the third day as the euphoria spurred by last week's larger-than-expected interest-rate increase faded amid persistent dollar demand from local investors.
The currency fell more than 2 percent against the greenback, with losses being compounded as long positions initiated after the 625-basis-point hike on Sept. 13 got stopped out, according to an Istanbul-based trader who declined to be named. The lira led emerging-market losses.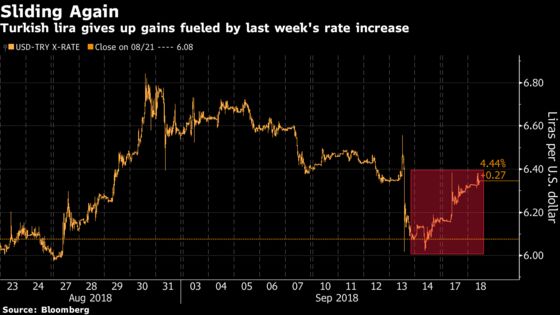 While the aggressive policy move on Sept. 13 was lauded for reaffirming the central bank's independence, a 40 percent slide in the currency this year has dealt a blow to an economy that relies heavily on foreign inflows to keep growth ticking along. The corporate sector is sitting on a $216 billion foreign-exchange shortfall, and analysts say that pent-up demand for hard currency may be standing in the way of a sustained lira rally.
The lira was trading 1.5 percent lower at 6.4109 per dollar as of 2:56 p.m. in Istanbul, taking losses in the past three days to more than 5 percent. On Thursday, Turkish retail and corporate investors bought up to $2 billion dollars, according to traders, slowing the lira's gains.
"I think it's obvious that the domestic Turkish corporate sector is stuck short dollar-lira. Every dip they see is an opportunity to decrease that exposure," said Saed Abukarsh, the co-founder of Dubai-based hedge fund Ark Capital. "We may see bouts of Turkish lira demand but the underlying problem is still there. Credibility. And domestics are not buying the story."
In an effort to further shore up the currency, the central bank in Ankara raised the interest rate for lira-denominated reserve requirements to 13 percent from 7 percent, according to a document seen by Bloomberg News. Attention will next turn to the government's medium-term economic program due Thursday, where investors will be looking for authorities to commit to a tight fiscal stance to help narrow the country's twin deficits.
While some traders wanted to enjoy the carry on lira yields and took on long positions after Thursday's rate increase, they now seem be to "caught on the wrong foot," thanks to "decent local corporate and retail" demand for dollars, said Onur Sert, a broker at Continental Capital in Nyon, Swizterland.