Turkish Inflation Slows After 15-Year High on Tighter Policy
(Bloomberg) -- Turkish annual consumer inflation slowed last month from a 15-year high in October, driven by a deceleration across the consumer basket that suggests the central bank's September interest rate hike is working its way through the economy.
The consumer inflation rate dropped to 21.6 percent from 25.2 percent, while monthly prices dropped 1.44 percent, TurkStat said in a statement on its website. The median estimate in a Bloomberg survey of analysts was for an annual rate of 23 percent.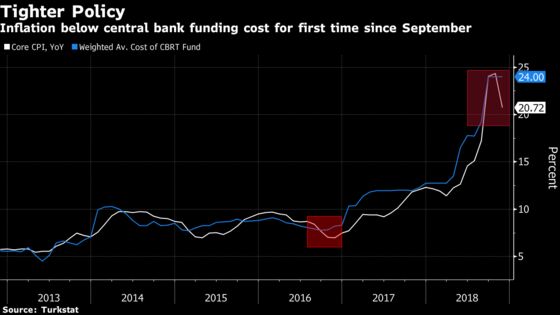 Food price increases slowed to 25.7 percent from 29.3 percent the previous month, in a sign the central bank's 29.5 percent year-end estimate might prove to be realistic
Food prices have so far been volatile and the seasonal slowdown usually seen during the summer months failed to materialize, pushing the overall inflation higher as the category accounts for nearly a quarter of the consumer inflation basket
Annual energy inflation slowed to 25.4 percent from 29.4 percent as oil prices fell by more than 20 percent during the month, resulting in retail price cuts for refined products
Monthly producer prices also fell, indicating that manufacturers and service providers might be undoing some of the earlier price rises as the lira recovers from an August low
The lira strengthened after the report and was trading 1 percent higher at 5.1629 per dollar at 10:59 a.m. in Istanbul
The broad-based slowdown "shows the impact of recessionary conditions, plus newfound strength and stability of the lira," Tim Ash, BlueBay Asset Management LLC strategist, said after the report. "It's amazing what a bit of orthodox policy does."
Read more on the central bank's inflation expectations