Turkey's Slower-Than-Expected Price Gains No Reason to Celebrate
(Bloomberg) -- Turkish inflation quickened less than anticipated last month but price pressures are still building, giving policy makers little room to relax.
The consumer inflation rate rose to 15.9 percent from 15.4 percent in June, increasing less than the median estimate of 16.3 percent in a Bloomberg survey of analysts.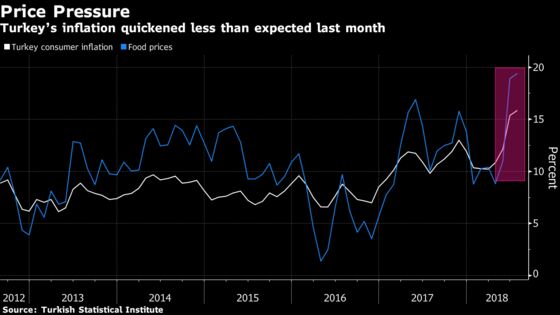 Still, annual inflation is at the highest level in 15 years and more than three times the official target. More troubling is that producers' prices rose by 25 percent through last month and a core index that excludes volatile items such as food and energy is at a record high, indicating that consumer prices will come under further pressure going forward.
That may be a problem for central bank Governor Murat Cetinkaya who said earlier this week that he refrained from further tightening at last month's monetary-policy meeting because he wanted to wait and see the lagged impact of past rate hikes.
"Headline inflation was better than expected. But both core and the producer price index were higher than expected, suggestive of strong underlying inflation pressures," said Tim Ash, a senior emerging-market strategist at BlueBay Asset Management LLC in London. "This number is not going to let the central bank off the hook. The pressure is still on."
The lira was trading 0.1 percent higher at 5.0686 per dollar at 10:23 a.m. in Istanbul.
Below are some of the highlights in Friday's inflation report from Turkstat in Ankara:
Prices rose 0.6 percent from the previous month, below the 1 percent estimate in a Bloomberg survey
Food prices, which make up a quarter of the inflation basket, rose an annual 19.4 percent, compared with 18.9 percent through June; on a monthly basis, food prices fell 0.3 percent
Energy index was up 17.5 percent, up from 17 percent, during the same period
Core inflation, which excludes volatile items such as food, energy and gold, was 15.1 percent, up from 14.6 percent; the median estimate in a Bloomberg survey was 15 percent; core inflation is now at its highest since Turkstat began this index 14 years ago
Producer's price index rose 25 percent from year earlier, up from 23.7 percent; that's the highest reading since July 2003