Turkish Companies Most Leveraged in a Decade Compared With Peers
(Bloomberg) -- How indebted are Turkish companies in relation to their peers in emerging markets? The answer is "very," according to a key leverage ratio.
The spread between the total debt-to-shareholder equity of companies trading on the MSCI Emerging Markets Index and those on Turkey's benchmark Borsa Istanbul 100 Index hit the highest level since 2007, Bloomberg calculations show, based on third-quarter financial reports.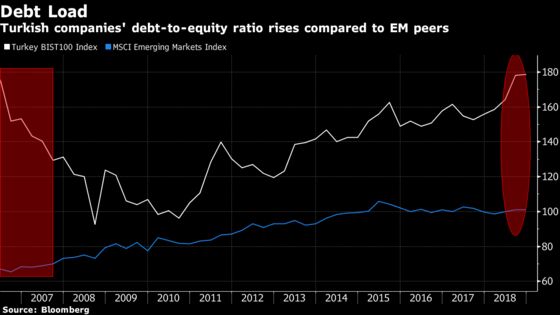 The lira's 29 percent plunge against the U.S. dollar, and commercial loan rates reaching 36 percent in September, were the main reasons for the deteriorating leverage ratios.
"It's a serious risk, especially for the banking sector; which makes investors uneasy over non-performing loan ratios," Burak Isyar, head of equity research at ICBC Turkey Yatirim in Istanbul, said. Turkish banks' non-performing loan ratio was at 3.22 percent in September, according to official data from the banking regulator, though analysts expect it to more than double in the coming year.