Turkish Bond Rally Has Room to Run If Foreign Buyers Jump in
(Bloomberg) -- Turkey's lira is recovering, policy makers have started checking the right boxes, and sentiment toward emerging markets has improved. Still, the key ingredient for a sustainable rally in the battered bond market is missing: foreign buyers.
Turkish bonds have led gains across emerging markets in September after the central bank jacked up interest rates to stem a collapse in the lira. That advance came even as global investors cut their ownership to the lowest in six years, suggesting a further jump if they start rebuilding positions. At more than 18 percent, Turkey offers among the highest nominal yields in the world.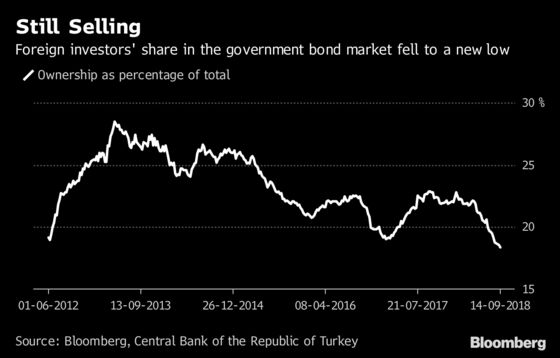 "From a valuation and positioning perspective, there is without a doubt room for a rally," said Christian Wietoska, a strategist at Deutsche Bank AG in London. But first, foreign investors would need to see an easing of political tensions with the U.S., and for Turkey to further stabilize its relations with the European Union, he said.
The U.S. decision to sanction Turkey over a detained American pastor in August helped drive the lira to a record low. The currency's 40-percent slide this year has fueled the fastest inflation in 15 years and prompted foreign investors to cut their share in the local bond market to just over 18 percent, the lowest since at least 2012.
The first signs of any political rapprochement could come as early as this week, when President Recep Tayyip Erdogan meets German Chancellor Angela Merkel in Berlin. Some investors are holding out for pastor Andrew Brunson to be freed at his next trial hearing on Oct. 12.
"If he's released I think it would go some way to reduce broader tensions," said Henrik Gullberg, a strategist at Nomura International Plc in London. "The lira is likely to rally below the 6.00 level, which in turn would be good for the inflation outlook and bonds."