Turkish Airlines Rides Tailwinds for Peer-Beating Stock Recovery
(Bloomberg) -- The aviation industry's recovery from the devastating coronavirus pandemic is certain to be long and slow. But you wouldn't think so if you based your view on the shares of Turkey's flag carrier.
Turkish Airlines has rallied by more than 60% in Istanbul trading from its lows in March, outperforming the 15 emerging-market airline stocks included in the MSCI EM Airlines Index. Shares in local low-cost rival Pegasus Airlines, which doesn't feature in the MSCI gauge, have more than doubled.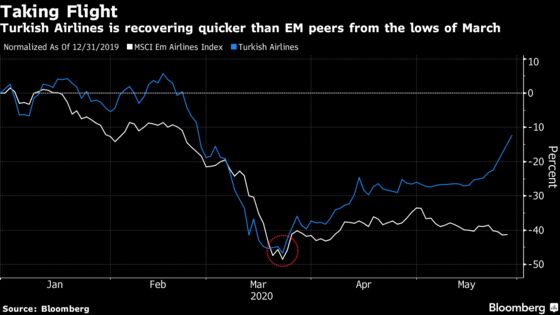 HSBC Holdings Plc analysts in April described the gains in the Turkish aviation companies' shares as "detached from fundamentals." Others partly attribute the jump in Turkish Airlines to it being a laggard in 2019, when the stock dropped 10%. Another factor cited is a yearning among local investors for returns, given increasingly unattractive rates on their bank deposit accounts.
Air travel in Turkey is only taking its first steps toward revival, with Turkish Airlines saying domestic flights may resume June 4 and some international routes six days later. The surge in shares of Turk Hava Yollari AO, to give the carrier its formal name, may yet prove unsustainable, with Chairman Ilker Ayci seeing a recovery to 2019 revenue levels taking at least two years.
Turkish Airlines didn't immediately respond to an emailed request for comment.
Here's what some analysts and investors are saying about the stock:
Artem Yamschikov, analyst at Renaissance Capital
After underperforming significantly in 2019, the stock could be catching up. Still, the current rally is unsustainable and driven by global gains in aviation companies and by the sector being a laggard, amid the lockdowns easing and prospects for flights resuming in summer
Liquidity position is sufficient to cover current expenses, supported by a short-term work allowance program in Turkey, and it won't be necessary to apply for state emergency support in the near term
Second half is likely to be challenging for Turkish Airlines as the company would have to relaunch its international network with a high exposure to wide-body aircraft and transit passengers. There is a lack of positive catalysts for the stock going forward
Elena Sakhnova, analyst at VTB Capital
At the end of last year, the company had $2.5 billion of cash and equivalents on its balance sheet. Turkish Airlines' strong balance sheet can allow it to survive for two months of no flights and six months of a steady recovery afterward
One of the few airlines globally that hasn't asked for state support, with no risk of state representatives on the board or a dilution of shares
Burak Isyar, head of research at ICBC Turkey Yatirim
Local investors' interest in Turkish Airlines' shares amid unappetizing deposit rates and expensive foreign exchange lies partly behind this rally
They already pumped retail stocks higher, so now it is airlines' turn in locals' list, it seems
Also, because aviation companies were among the most hit by the pandemic, they're also expected to benefit more from normalization
Julian Rimmer, trader at Investec Plc
Turkish Airlines' shares have been huge laggards and among international accounts in particular, they are scarcely held at all for obvious reasons
With the stock having rebounded powerfully, traders are looking for rotation and now that flights are opening up for the summer, sentiment is improving. "I'm not sure the airline industry isn't damaged irreparably, but in terms of newsflow, it will never be this bad again"
Nirgunan Tiruchelvam, analyst at Tellimer
There has been a rise in optimism toward airline stocks in general through emerging markets, with people looking beyond the first three quarters and seeking signs of sustainability for operations over the longer term
Turkish Airlines has a great fleet and excellent routes, and its hub is strategically positioned. Some people say their balance sheet is stretched, but it is not alone in this regard. Insolvency seems unlikely at this point
Additionally, they could count on different measures by the Turkish government to help their finances in the short term. There could be a cancellation of VAT payments for a period of time, for example. There could be different ways for the government to help the airline, without necessarily having to inject money directly