Turkey Short-Selling Ban Is Blow to Bank Stocks' Trading Volume
(Bloomberg) -- Turkey's moves to protect and buoy its banking shares has triggered a slump in trading volume.
The number of shares exchanged on a banking gauge on Wednesday sank to 179.7 million, or about 66% lower than the 20-day average, after Turkish regulatory decisions included a short-selling ban on seven lenders and a depository rule that made it harder to sell the stocks. The moves are an attempt to limit the impact from the U.S. indictment of the state-owned Halkbank.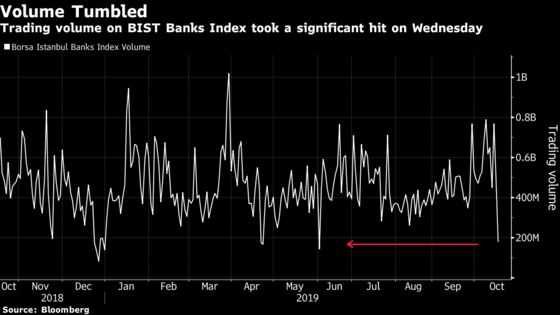 The daily trading volume on the Borsa Istanbul Banks Index on Wednesday was the lowest since a half-day on June 3 that was part of the Eid Al-Fitr holiday. For Halkbank, it was 66% lower than the 20-day average, and down 74% for Garanti.
The Borsa Istanbul Banks Index was down 0.4% as of 12:11 p.m. in Istanbul, with the volume of shares traded about 80% lower than the 20-day intraday average. It fell as much as 4.1% on Wednesday before paring the drop to 0.2% at the close.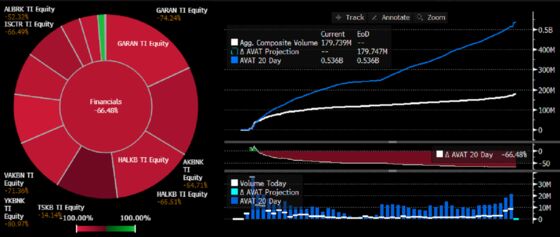 An indictment was filed Tuesday in Manhattan against Halkbank, in which prosecutors accused the state-run lender of participating in a wide-ranging plot to violate prohibitions on Iran's access to the U.S. financial system. The case appears to largely repeat allegations used during the trial of former Halkbank executive Hakan Atilla and as part of the sanctions introduced against Turkey's military operation in Syria, Halkbank said in a public filing on Wednesday.