Turkey's Currency Rally Sends the Wrong Message
(Bloomberg Opinion) -- If you believe the credit-rating companies, you won't be expecting good things for the Turkish lira.
S&P Global Ratings said that Turkey will likely face a recession next year as it cut the country's rating one step to B+ late on Friday. Moody's Investors Service followed just a few minutes later with a one-notch downgrade.
If S&P is right, that's bad news for the currency. It also leaves the country's central bank with a dilemma.
Even though consumer price inflation has accelerated to 15.8 percent, and producer price gains, which usually lead the headline rate, are at 25 percent, officials are dragging their heels on raising rates. Disappointingly, the Monetary Policy Committee left its benchmark unchanged at its July 24 meeting, citing concerns about weakening domestic demand.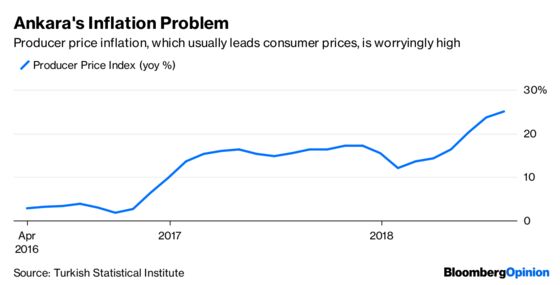 Since then, officials have been tinkering around the edges. Last week, a joint effort by the central bank and the Banking Regulation and Supervision Agency stopped financial firms wanting to arrange offshore currency swaps from borrowing at the 17.75 percent one-week repurchase rate, pushing them to use the more expensive 19.25 percent overnight rate. It's monetary policy tightening by another name.
A $3 billion credit line from Qatar will help backstop the financial system, but it's a drop in the ocean compared to Turkey's substantial refinancing needs, which I've outlined before.
True, these measures have had some success in halting the lira's free-fall, and the currency has strengthened to nearly 6 to the dollar from more than 7 at one point last week.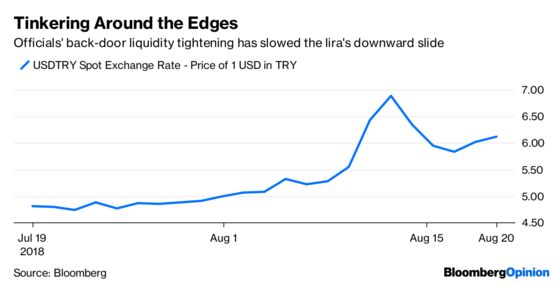 There is no getting around it. The central bank will have to raise rates in order to get on top of inflation. This seems to present it with a difficult choice: tighten policy now and risk slowing the economy down, or leave policy as-is and give the economy the strength it needs to weather the coming storm.
But this isn't the right way to look at it. At this point, the choice is between a short and sharp recession, or a longer and much more painful one. Delaying an interest rate rise will ensure inflation stays out of control and the contraction will be more severe. Sadly, this seems to be the plan.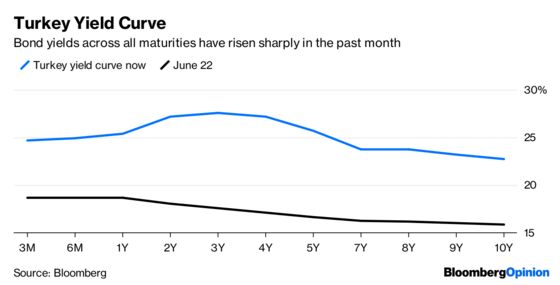 The central bank's next scheduled meeting isn't until Sept. 13. With Turkish markets closed for a holiday for most of this week and one day next week, officials may limp through the intervening period without an emergency rate hike. But it is only a question of time before the markets force their hand.
And the markets are already there. Turkey's two-year bonds are yielding more than 27 percent, suggesting investors have limited confidence in the central bank's willingness to control inflation.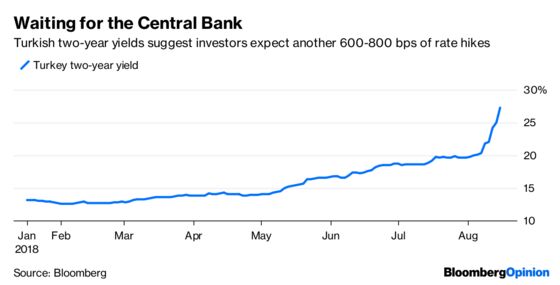 Unless policy makers take decisive action, Turkey will need to prepare for a severe recession: annual growth rates of 7 percent risk becoming a thing of the past. The recent recovery in the lira may be only a brief respite.
This column does not necessarily reflect the opinion of the editorial board or Bloomberg LP and its owners.
Marcus Ashworth is a Bloomberg Opinion columnist covering European markets. He spent three decades in the banking industry, most recently as chief markets strategist at Haitong Securities in London.