Turkey's Albayrak Holds Talks With Banks on Post-Virus Economy
Treasury and Finance Minister Berat Albayrak met Turkey's top bankers on Wednesday, highlighting efforts to get credit flowing and pull the $750 billion economy back from the shock of the coronavirus.
Albayrak shared his expectations for the financial industry during the post-pandemic era and discussed the general state of Turkish banks in a "a fruitful meeting," the minister said via Twitter.
Wednesday's gathering marks the first time Turkey's top economic policy maker met chief executive officers of major private and state-run lenders since the pandemic started. The global turmoil forced Turkey to increasingly rely on banks to stabilize markets and finance spending by households, businesses and the public sector alike.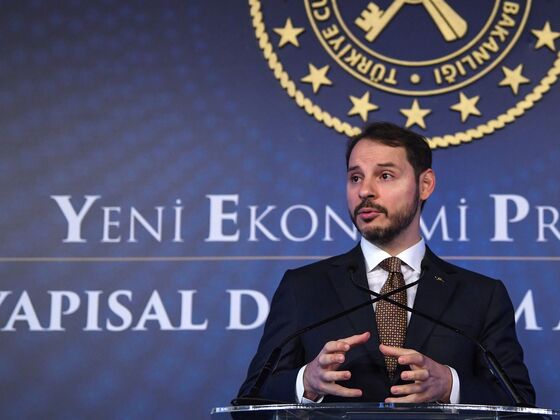 Lending grew more than 70% in the 13 weeks through May 20, the fastest pace since at least 2007, but most of that has been driven by state banks. Loans to companies more than doubled, while retail credit rose by about 45%, according to central bank data.
The government's efforts to lean on state banks to revive the economy are in contrast with the approach of private lenders, which are more cautious amid fears of increasing bad loans and deteriorating capital ratios. Private banks have also complained that they cannot compete with more favorable terms offered by their rivals, whose losses are covered with public money.
The nation's three largest state banks this week unveiled their most expansive program of credit incentives in four years, offering mortgages and credit for home appliances at below-inflation interest rates. That followed a tweak to the banking watchdog's asset-ratio formula last week to encourage banks to provide more credit to businesses.
While fanning economic growth through credit is a policy long favored by President Recep Tayyip Erdogan, it has backfired before. Following a coup attempt in 2016, Turkey introduced the Credit Guarantee Fund, through which companies accessed borrowing with the government acting as a guarantor. The flood of new credit caused the economy to overheat and contributed to the lira's crash in August 2018.