Turkey Replaces Argentina as Worst Market for Bond Investors
(Bloomberg) -- Turkey has replaced Argentina as the year's worst performer in local-currency bonds and the carry trade following the lira's plunge to a record.
Losses for both nations far exceed the 4.7 percent average decline in emerging market local-currency debt in 2018. Investors holding lira-denominated bonds have lost 38 percent in dollar terms as the securities plunged 8 percent in just one week, while Argentina's losses stabilized at 36 percent, according to Bloomberg Barclays indexes.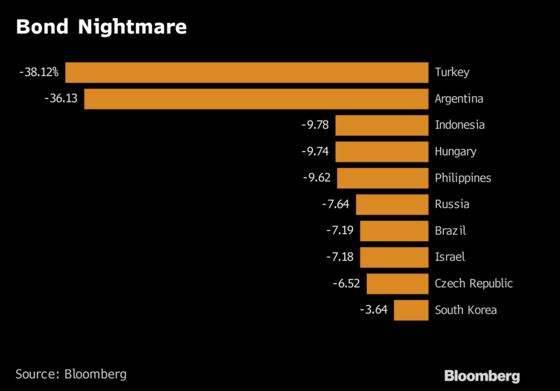 Investors who borrowed dollars to buy Turkey's lira lost 22 percent, versus 20 percent for Argentina's peso, according to data compiled by Bloomberg.