Turkey Ends Emergency Rule But Erdogan's War on Enemies Not Over
(Bloomberg) -- Turkey's two-year-old state of emergency expires at midnight Wednesday, but President Recep Tayyip Erdogan isn't calling off his war on his No. 1 enemy.
The president wants parliament to give prosecutors broader authority to crack down on suspected terrorists, which in his view includes disciples of Fethullah Gulen, the U.S.-based Turkish imam he accuses of orchestrating the coup attempt that sparked the emergency rule. Erdogan's AK Party and his nationalist ally MHP control a majority in the 600-seat parliament so passage is assured, possibly within weeks.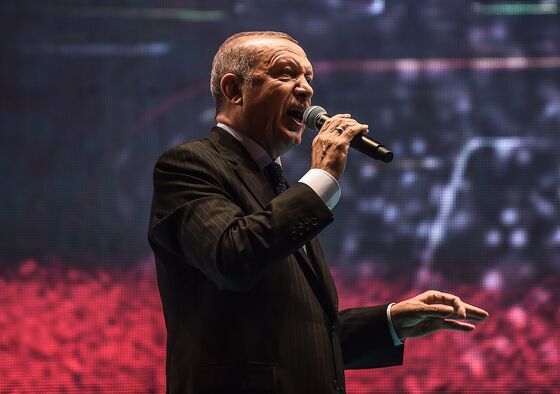 "Now that the state of emergency is ending, we find ourselves in a rather awkward situation," a chief adviser to the president, Ilnur Cevik, wrote in an opinion piece published Wednesday in the English-language Daily Sabah. "The fight against FETO is far from over, and the state needs ammunition to cope with the traitors," he said, using the acronym for Gulen's movement.
The preacher denies involvement in the July 2016 failed coup.
Since the attempted putsch, the government has purged almost 130,000 people from the military, police and other state offices over their suspected links to Gulen. More than 18,000 of them lost their jobs earlier this month just before Erdogan was sworn in as an executive president with the vastly expanded powers he'd sought for years.
The draft legislation would allow authorities over the next three years to dismiss suspected Gulenists from state offices and put companies suspected of financing the movement in receivership and send their owners to prison.
Provincial governors would also be given extraordinary powers to declare certain places off limits for defined periods, and ban demonstrations on grounds of safeguarding public security. The right to assemble and demonstrate remains intact, Cevik said.
"Of course, some claim all these measures actually form a 'veiled' state of emergency and, in essence, nothing has changed in Turkey. Yet, that assumption is completely wrong,"' Cevik wrote. "The state has to protect itself, especially since the FETO threat remains very real."