Turkey Debt Risk Near Pandemic Peak Signals Doubt Over Lira Plan
(Bloomberg) -- This week's historic rally in the Turkish lira has done little to comfort investors in the country's stock and bond markets. 
Five-year credit-default swaps, a measure of Turkey's debt risk, remain near a 16-month high, even after dropping for two days following the government's announcement on steps to shore up the currency. Investors are paying more to insure themselves against a default by Turkey than for Iraq, whose debt is rated two steps lower by both Moody's Investors Service and S&P Global Ratings.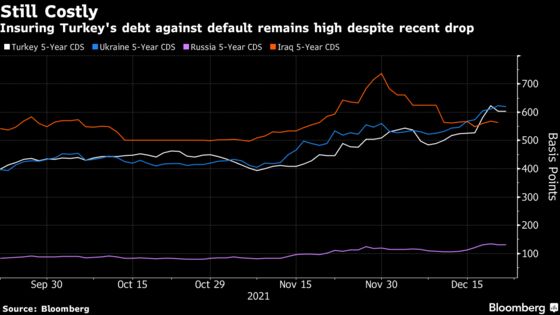 The nation's benchmark equity index, which closed in a bear market and completed its steepest four-day decline in more than two decades, is sending equally worrying signals. President Recep Tayyip Erdogan's measures, which promised investors protection from the currency's gyrations, are raising concern over the impact on the nation's fiscal position.
"The plan, in short, is unsustainable," said Lutz Roehmeyer, the chief investment officer at Berlin-based Capitulum Asset Management GmbH. "It only stops part of the capital flight from Turkish savers. There might still be people who do not trust the scheme and still prefer holding U.S. dollars over lira."
The steps announced by Erdogan this week came as the lira tumbled following 500 basis points in interest-rate cuts from the central bank since September. The Turkish president has leaned on policy makers to slash borrowing costs in an effort to lure investment and buoy his waning popularity. But with inflation accelerating, it's left investor confidence in the central bank in tatters. 
According to the plan, Turkey's Treasury will make up for losses incurred by holders of lira deposits should the currency's declines exceed bank interest rates. For example, if banks pay 15% for one-year lira deposits but the currency depreciates 20% against the dollar in the same period, the Treasury -- that is, taxpayers -- would pay deposit-holders the differential. 
It's too little, too late for some debt investors though. They have lost 7.8% on the country's dollar-denominated sovereign debt this year, compared with 2.9% across emerging markets, the worst performance since 2013. Meanwhile, corporate debt holders have lost 1.7%, the sixth-most globally, according to Bloomberg indexes.
The Borsa Istanbul 100 Index declined for a fourth day on Wednesday and lost 21% over the period, the steepest slump since July 2001. Trading has been automatically halted for four days in a row, with high levels of margin trading and increased demand for collateral exacerbating the move. 
The rout comes partly as Erdogan's measures sent the lira surging, removing a key catalyst behind the Turkish equity rally over the past three months -- as local investors had used stocks as a hedge.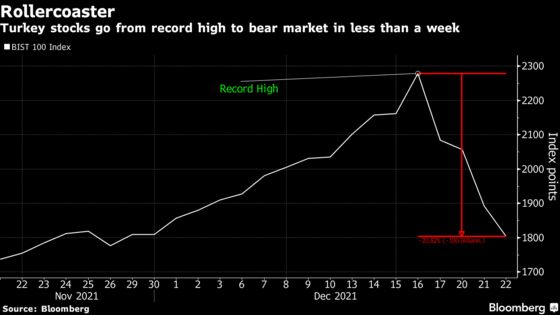 Meanwhile, the lira swung between losses and gains on Wednesday, trading 0.4% higher at 12.4361 per dollar as of 10:15 a.m. in New York after rallying about 30% in the past two days. While the currency remained near the strongest level in a month, it has also been subject to wild swings, with three-month volatility surging to a record this week. 
For Carlos De Sousa, a money manager at Vontobel Asset Management, Erdogan's plan may provide another spur to gains in consumer prices. Inflation quickened last month to 21.3%, more than four times the government target of 5%. The central bank's benchmark interest rate is 14%.
"The policy will accelerate the pass-through from depreciation to inflation and result in a chronically higher inflation equilibrium," De Sousa said. That "in turn will require more lira depreciation in the medium term."