Turkey Current-Account in Surplus for Longest Streak Since 2002
(Bloomberg) -- Turkey posted a current-account surplus for fourth straight month, the longest stretch since a financial crisis nearly two decades ago pushed the economy into a severe contraction.
The current-account surplus was $986 million in November, the central bank said on Friday, compared with a median estimate of $900 million in a Bloomberg survey. That takes the 12-month rolling deficit to $33.9 billion, down from a peak of $58.2 in May.
The sharp and sudden improvement in the country's balance of payments underlines the impact that last year's currency crash and aggressive monetary tightening are having on the economy, which is teetering on the brink of another recession.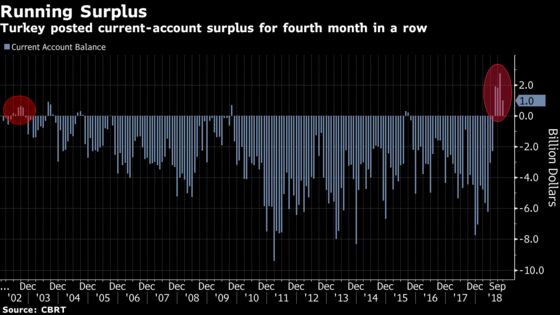 The improvement is in line with Treasury and Finance Minister Berat Albayrak's latest prediction that the year-end gap may narrow to just below $30 billion, around 3 percent of yearly output.
The banking system posted a net loan outflow of $2.15 billion, the seventh monthly outflow in a row, an indication that there is less appetite for credit.
The improvement was largely driven by a narrowing of Turkey's foreign trade gap as a cheaper currency boosts exports and makes imports more expensive for consumers.
The balance of goods and services posted a surplus of $2 billion in November.
Net errors and omissions, or capital movement of unknown origin, showed a monthly inflow of $994 million, bringing total inflows for 2018 to $19.5 billion.
Official reserves rose by $4.4 billion, trimming the depletion through November to $10.8 billion.