Tunisia Braces for Day-Long Strike as Wage Talks Collapse
(Bloomberg) -- Tunisia's powerful labor federation said it will go ahead with a day-long strike on Thursday after talks with the government collapsed, a new hurdle for authorities under intense pressure to cut spending.
The powerful General Labor Union, or UGTT, had been pressing for higher public sector pay. But the raises it sought would undercut an economic reform plan that was a condition for a $2.9 billion International Monetary Fund loan.
The IMF says Tunisia's public-wage bill, which accounts for half of the national budget, is among the world's highest in relative terms. The UGTT's deputy head, Hefaidh Hefaidh, accused the government of doing the IMF's bidding and urged it to reclaim its independence.
The government has shown it's "more receptive" to the IMF than even those under Ben Ali, he was quoted as saying by the state-run TAP news agency.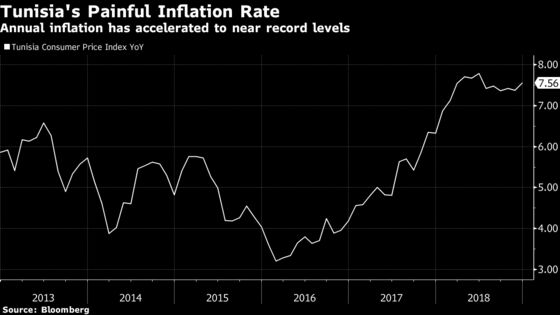 The strike comes at a difficult time for Tunisia, once seen as the region's best hope for a new beginning after the 2011 uprisings that toppled longtime dictators in the Arab world.
Inflation is near a 25-year high, the dinar is weakening, tourism hasn't fully recovered from militant attacks in 2015 and foreign investors are staying away.
Against this problematic background, the government is struggling to strike a balance between cutting expenditures while also creating jobs for a youth population whose 30 percent percent unemployment rate is about double the national level.
In December, parliament passed a budget plan of 41 billion dinars ($13.6 billion), or 8.5 percent higher than 2018.
In a speech earlier in the week marking the anniversary of the uprising, President Beji Caid Essebsi appealed to avoid a strike "at all costs."
"We must take into consideration the current situation of the country so as not to repeat the January 1978 scenario," he said, in reference to the deadly riots that broke out after a general strike that year.
About 670,000 people, or near 6 percent of the country's population, observed a day-long strike called by the powerful labor union in November. Thousands gathered outside parliament in Tunis to protest, some holding signs that read: "Raises are a right."