Tunisia Risks Explosion Over Austerity, Ghannouchi Cautions IMF
(Bloomberg) -- Pressure from global lenders like the International Monetary Fund could put Tunisia's post-revolution stability at risk, cautioned Rashid Ghannouchi, head of the moderate Islamist Ennahda party that is part of the governing coalition.
The remarks, made in an interview with Bloomberg, come amid mounting frustration in the North African country as it tries to implement an IMF-backed economic program that calls for cutting government spending as part of a broader push to revive growth. Implementing the measures has become increasingly difficult with inflation near a 25-year-high and pressure by unions to boost public sector pay.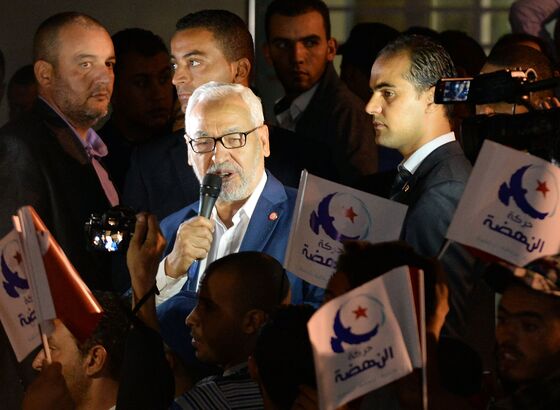 "The International Monetary Fund and international institutions should take into account the transitional situation Tunisia is experiencing. They could apply pressure to the extent of an explosion," Ghannouchi, a veteran 77-year-old politician, said. He stressed that Ennahda supported the program and that ministers dealing with the IMF were members of the party.
"But there's no need to apply more pressure than necessary," such as on lifting subsidies or raising wages, he said.
Tunisia's 2011 uprising that led to the ouster of President Zine El Abidine Ben Ali rippled across the region, triggering similar eruptions of outrage in Egypt, Libya, Syria and Yemen. While the tiny Mediterranean country best known for sandy beaches and olives was spared the violence that broke out in those countries, its transition to democracy has been marked by political feuding that has complicated efforts to reduce public spending and bolster the private sector.
In its fourth review of the Tunisian program in September, the IMF said while authorities have made progress, "strong efforts are required to achieve the agreed fiscal targets."
That review opened the door for the release of the next installment of the loan. International reserves were buoyed recently by a $500 million World Bank loan.
"The government is under pressure, on the one hand, because of IMF conditions and, on the other, from the unions," he said.
That's been the dichotomy confronting eight successive governments since Ben Ali's ouster. Tunisia is under constant pressure to cut youth unemployment that, at around 30 percent, is double the national level, while also facing union demands for wage increases at a time when significant foreign investments have failed to materialize.
The Tunisian General Labor Union, which represents over 500,000 people and is the country's most powerful, said the government was kowtowing to the IMF when it offered less than they wanted in pay raises for the public sector. A day-long general strike took place last week, and another stoppage is planned in February.
Officials warned against the strike, with President Beji Caid Essebsi saying it had the potential to tear the country apart. In the event, the stoppage and widespread demonstrations passed without violence.
"Yes the strike was peaceful and calm, but it could have been different," Ghannouchi said. "It's a sign that things could get out of control."
While Tunisia's commitment to democracy has allowed such popular action to take place -- a rarity in a region where dissent is usually put down by force -- it's also resulted in the political bickering that's held back the economy.
Prime Minister Youssef Chahed and Essebsi hail from the same party, Nidaa Tounes. But rifts within party ranks have left them at odds.
Ennahda, whose moderate stance helped reassure secular Tunisians at a time when the Muslim Brotherhood was expanding its power in nearby Egypt, has also faced accusations of mismanagement and pursuing its own interests.
Ghannouchi ruled out running for the presidency in elections expected to take place later this year but said his party, which came second in a 2014 parliamentary vote, would support a candidate and would try to be part of a coalition.
"The country can't be ruled except with agreement," he said. "We are still in a transitional situation."