TUI Shares Lose More Than 1 Billion Pounds on Forecast Cut
(Bloomberg) -- Holiday giant TUI AG lost about 1.3 billion pounds ($1.68 billion) in market value after saying there'll be no improvement in operating profit this year. Chief Executive Officer Fritz Joussen had previously lifted the measure at least 10 percent annually since joining in 2013.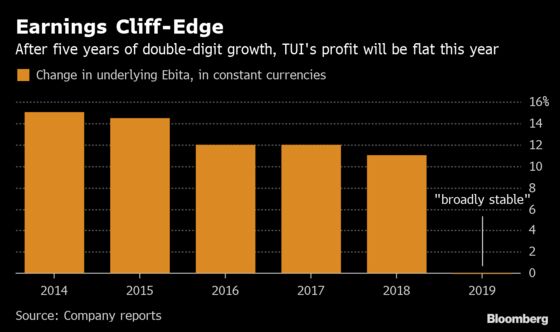 TUI was hurt by last summer's heatwave as north Europeans vacationed at home, while confusion surrounding Brexit has depressed the pound -- reducing the value of the company's sterling-denominated revenue.
Earnings this year will be "broadly stable," Hanover, Germany-based TUI said in a statement late Wednesday, having previously forecast a gain of at least 10 percent. The pain may not end there: UBS analyst Cristian Nedelcu reckons 1.2 billion euros ($ 1.36 billion) of goodwill related to TUI's northern region is a risk of impairment amid the downward pressure on profitability.