Trumps Fail to Stall Suit Over Endorsements on 'Apprentice'
(Bloomberg) -- President Donald Trump and his children failed to put on hold a lawsuit brought by a group of entrepreneurs who claim they were ripped off by the family's decade-long endorsements of a troubled multilevel marketing company on "Celebrity Apprentice."
The Trumps sought to halt the lawsuit while they appealed a ruling that denied their request to force the case into arbitration. But on Monday, U.S. District Judge Lorna Schofield in Manhattan said such a move isn't warranted because the family isn't likely to win on appeal.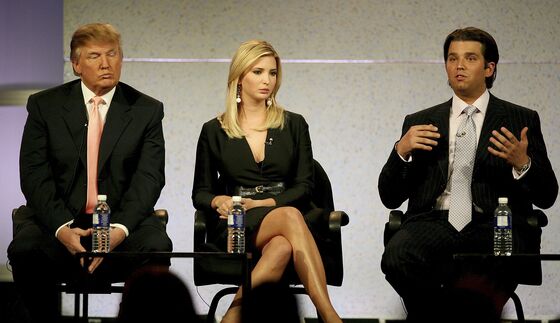 The plaintiffs are contractually bound to arbitrate disputes with the marketing company, ACN Opportunity LLC, but the Trumps aren't parties to those agreements and ACN isn't a defendant in the lawsuit.
"We intend to promptly move the Second Circuit for a stay pending appeal," Joanna Hendon, the lawyer for the Trumps, said in an email.
Plaintiffs attorney Roberta Kaplan said the Trumps' request for a stay is a "meritless obstacle" to try to avoid discovery into their dealings with ACN.
"We will continue to do our job getting the evidence necessary to obtain justice for our brave clients, and thousands of others like them, who were defrauded by the Trumps," Kaplan said in an email.