Trump Says He'll Sue Rape Accuser Over Her Defamation Suit
(Bloomberg) -- Former President Donald Trump told a judge he plans to sue New York advice columnist E. Jean Carroll, alleging her defamation lawsuit against him was filed in bad faith after he denied her claim that he raped her in a department store dressing room two decades ago.
Trump, who recently replaced his legal team in the suit Carroll filed against him in 2019, on Wednesday asked the federal court in Manhattan for permission to add a counterclaim, which he included in his request to the judge.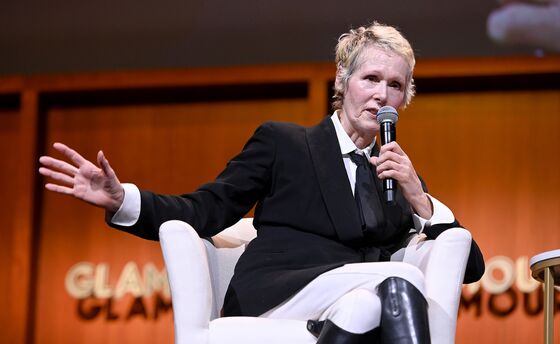 The former president made the same legal move two months ago in a similar case. In October, he filed a counterclaim against his onetime "Apprentice" contestant Summer Zervos, who had also accused Trump of sexual assault and then sued him for defamation after he denied it. In November, with Zervos's long-sought deposition of Trump just weeks away, Zervos agreed to drop the suit. Neither side explained why.
Trump's counterclaim in both cases alleges a violation of New York's Anti Strategic Lawsuits Against Public Participation statute, known as an anti-SLAPP law. The law is intended to deter "ill-intentioned lawsuits -- particularly those meant to discourage public participation or chill the free speech of others," according to the filing by Trump's new lawyer, Alina Habba.
The state legislature in 2020 amended the anti-SLAPP law to "greatly expand its scope and impact," Habba said.
Carroll's lawyer, Roberta Kaplan, said Trump's counterclaim is a "transparent" delay tactic.
"Trump sat on his hands for a year after the anti-SLAPP law was passed," Kaplan said. "While Trump may be notorious for using the courts to attack women he has assaulted, his latest gambit will not work -- when it comes to E. Jean Carroll, the truth will prevail."
Lawyers for Carroll and Trump are scheduled to appear Friday in a federal appeals court, where she is fighting an attempt by the U.S. Justice Department to replace Trump as defendant in the case. If that happens, it would result in the lawsuit being tossed out.
The Biden administration has argued that Trump is protected from Carroll's lawsuit because he made the allegedly defamatory statements about her while he was a federal employee.
The case is Carroll v. Trump, 1:20-cv-07311, U.S. District Court for the Southern District of New York (Manhattan).