Trump Said Voting for Democrats Would Send Stocks Down. So Far It's Not Happening
(Bloomberg) -- Last week, President Donald Trump tweeted a warning. "If you want your stocks to go down, I strongly suggest voting Democrat." Now the vote's over. Democrats took the House. And so far, stocks are fine.
Wall Street got what it expected in the election. Democrats won a majority in the House, Republicans kept the Senate. In markets, the reaction's been swift. The S&P 500 was up 1.6 percent as of 1:11 p.m. in New York, a third day of gains.
Recall, it's not the first time equities have defied bearish predictions after a big vote. Back in 2016, pundits were almost unanimous in forecasts for market reversals should Trump win the presidency. Shortly after he did, S&P 500 futures erased a 5 percent plunge, and the index went on to rally.
Today, even a basket of stocks selected by Morgan Stanley as the most likely to outperform if Trump won the presidency back in 2016 is jumping too, up for a seventh straight day in the strongest streak of gains since Trump's November 2016 win.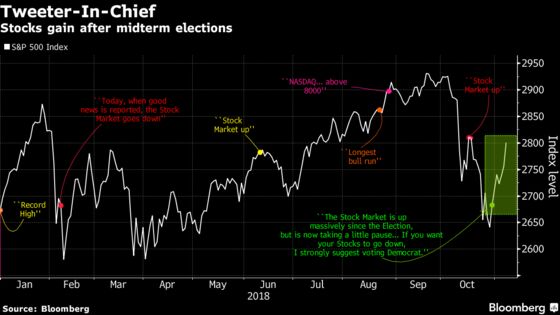 "It was a campaign slogan and I don't think he's in the business of forecasting where the markets are going on a day-to-day basis," said Kim Forrest, senior portfolio manager at Fort Pitt Capital Group. "Nobody knows day to day. This is a relief rally that the election more or less came out as expected. We're back to looking at the economy and stocks. That's what this really is."
Investors polled since the races were decided had a number of explanations.
Lew Altfest, president of Altfest Personal Wealth Management: "The reason there will be a mild upturn is that there will be less being done in government. If either extreme can't do what it wants to do, we'll get more of a consensus approach to the economy."
Kristina Hooper, chief global market strategist at Invesco Ltd: "It seems investors have come to accept the likelihood of a split Congress and are no longer frightened of it. And I think that's the right attitude, as there is some potential for upside with such a composition for Congress. One bright spot is infrastructure spending – and area that both the President and Democrats are supportive of. That could mean a rally for materials stocks."
Alec Young, managing director of global markets research at FTSE Russell : With Democrats in control of the House, "the president is incrementally weakened, and generally the reason the market does well after a midterm historically is because the president in power has lost in the Congress, so going into the next general election, they try to pass stimulative legislation. In this case, doing a China trade deal is Trump's stimulative legislation. If he can't get tax cut 2.0 through Congress, he'll get it through trade."