Vicente Fox Says Trump's Wrong on Everything Except Venezuela
(Bloomberg) -- Outspoken former Mexican President Vicente Fox, who has spent much of the past two years mocking Donald Trump, says the U.S. leader has finally got something right.
After years of taunting Trump in video clips, calling him "crazy" and "ignorant," and attacking his policies on trade and migration, Fox is now taking the U.S. president's side over the Venezuelan crisis.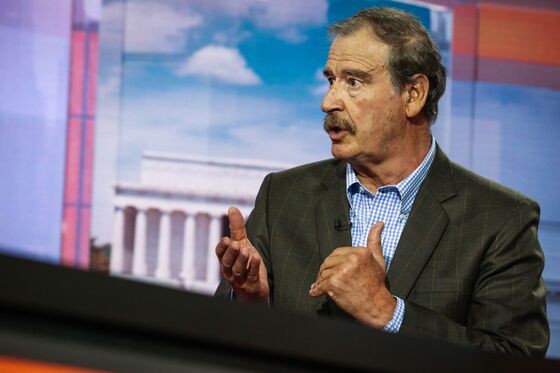 Trump on Wednesday recognized Venezuelan opposition leader Juan Guaido as the country's ruler, and said that President Nicolas Maduro is illegitimate. Fox, who says Maduro is a dictator who should resign, backed the move.
"This is the first time I've recognized something on the side of President Trump," Fox said in an interview in Bogota. "I've been very critical about everything he does, but in this case he's right."
Fox, 76, who served as president from 2000 to 2006 and is known for making provocative statements, saved his criticism for Mexico's current president, Andres Manuel Lopez Obrador. AMLO, as he's known, joined a handful of Latin American governments that did not recognize Guaido.
"He's not representing Mexican people with the position he has taken," Fox said. "He is confirming that his philosophy and political ideas come from the demagogues, populists and leftists that have caused such severe harm to many places in Latin America"