Trump's Top Economist Predicts Pay Gains 'Well North' of 3.1 Percent
(Bloomberg) -- President Donald Trump's top economist anticipates wage gains will keep growing, bolstered by investment and a strong U.S. economy.
"We would expect, given all the capital spending that we've had, to see continued wage growth," Kevin Hassett, chairman of the White House Council of Economics Advisers, told reporters on Friday. A government report earlier showed U.S. average hourly earnings grew 3.1 percent in the 12 months through October, the fastest pace since 2009. "I wouldn't be surprised if it goes well north of that over the next six months to a year."
Hassett, who spoke on a telephone conference call, was discussing the monthly U.S. payroll report that also showed employers added a better-than-expected 250,000 jobs in October as unemployment remained at a 48-year low of 3.7 percent.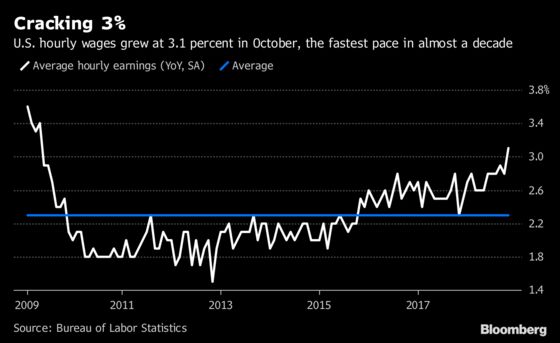 Lackluster wage gains amid a red-hot labor market has puzzled economists and the U.S. central bank during the second-longest economic expansion on record. The October data reinforce expectations that the Federal Reserve will raise interest rates again this year as it seeks to keep the economy on an even keel and inflation near its 2 percent goal.
The policy-setting Federal Open Market Committee meets next week but investors are focused on their gathering in December, when the odds of a rate hike are around 75 percent according to pricing in interest-rate futures contracts.
The president has sharply criticized the Fed for raising rates, breaking a long-standing tradition of the White House avoiding comment on monetary policy, and even demurred recently when asked if he would fire Fed Chairman Jerome Powell. Hassett said the administration would not trespass of the central bank's turf.
"We 100 percent respect the independence of the Fed and wouldn't give them advice on what to do about interest rates," Hassett said. "The president has selected a top-notch group of people, and I think that, if you just look at the caliber of the people here, then that's the absolute testament to the fact that he respects the independence of the Fed."